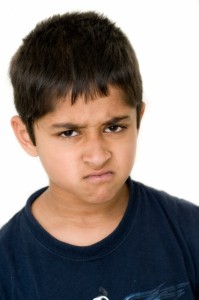 Why do some people think that if they ask for a link exchange that you will automatically give it to them?  Well, I'm here to tell you, that I never do link exchanges.  So stop asking me!
I think it is a selfish move and downright rude for people to ask for link exchanges.  Some of you may not feel that way, but that's how I feel when someone emails me and asks me to do a link exchange.  I almost never respond to those emails/requests.
The sad thing about this is that when I check out the person's blog, we usually have nothing in common.  The blogger has never visited my blog or interacted with me on any other social networking sites.  Who do you think I am, Boo Boo the Fool?
But here's the kicker, when I arrive on their site there is not much content on the their blog and it is very quiet.  So what makes you think that my giving you a link exchange will magically drive traffic to your blog.  It doesn't work that way!
Let me let you in on a little secret.  In order to get traffic to your site, you have to put in some work.  It doesn't matter how many people you ask to for link exchanges, if you don't have quality content and interact with others, it won't work anyway.
Let me tell you how things work here at Become a Healthier You and then I will give you some tips on how you can drive visitors to your blog.
This blog:
Is a Do Follow Blog
CommentLuv Enabled
Allows guest posts
Shows Top Commentators in sidebar
Has a blogroll in sidebar (not a link exchange)
Sometimes links to other bloggers within a post
Shares articles of other fellow bloggers on other social media sites.
Here are seven blogging activities you should begin doing immediately, especially if you are concerned about increasing traffic to your blog.
Write valuable content. How many times have you heard people say "content is king?  Well, just maybe these people know what they're talking about.  Don't just write anything; write quality content with your readers and other people in mind.  Provide content that will be most helpful and valuable to anyone who lands on your blog.
Be consistent with blog posting. You must have a regular blog posting schedule be it once a week or seven days a week.  Whatever you choose make sure you stick to a schedule because bloggers love consistency.
Learn more about blogging. There are many articles online and books on the subject of blogging.   Not to mention boot-camps (affiliate link) and communities you can join that will help you become a better blogger.
Interact with other bloggers. We bloggers thrive on interaction with other fellow bloggers.  Don't be shy about interaction and engagement.  Leave a thoughtful comment on other people's blogs and most of the time they will visit you and possibly comment on your blog.
Be active on social media/networking sites. If you have joined Twitter or other sites, make sure you network with others on those sites.  Don't be quiet, make a little noise.  Promote your blog and articles, but don't over do it.  Maybe a few people will find you that way.
Work hard at working your blog. Blogging isn't easy.  It takes time to build your readership and traffic.  There are activities that you must do in order for you to get the results you desire.
Do unto others as you would have them do unto you. Never expect someone to automatically give you a link exchange or share your posts on other social media sites.  Give your fellow bloggers a reason to share your content.
Conclusion
Start blogging and stop trying to get over by using other people.  This hardly ever works.  Fellow bloggers will see how hard you are working and will be compelled to support you in whatever ways they can.  But don't ask others for link exchanges especially when they don't know you from Adam.
Work hard and you will reap the rewards.  Hey isn't that how life works anyway, so why would blogging be any different.  Put in your blood, sweat and tears and watch how your blog evolves.  You will be amazed!
Discussion: What advice do you have for your fellow blogger?
Blog hard and blog often!
Category: Blogging