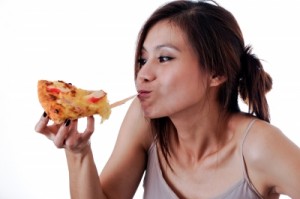 Have you ever wondered why most people who become vegan (strict vegetarian), say that cheese is the hardest food for them to give up?
I know you have, because I have wondered about this myself. I did not have a hard time giving up cheese, because I was not big cheese eater.
I recall sharing a vegan lasagna recipe on You Tube. I had a few people ask, about the cheese. I did not use cheese in the recipe and if you make the recipe you won't miss the cheese.
We are conditioned to believe that everything taste better with a little cheese. So, we get use to adding cheese to our dishes, which result in us having to have cheese on everything.
Cheese actually is addicting. Yes, it is? I never knew that cheese was addicting until, I read By Any Greens Necessary. Even then, I still didn't understand how cheese could be addicting.
What Makes Cheese Addicting?
All dairy products contain casein, which is a protein that breaks apart during digestion to form opiates, called casomorphins. Cheese has more casein than milk, ice cream, butter or other dairy products.
The larger amount of casein in cheese makes it more addicting. This is why it is one of the hardest foods for those becoming strict vegetarians to stop eating.
Cheese is Not Healthy
Cheese is a very fattening food, with 70 percent of the calories coming from fat. It is an artery-clogging saturated fat and has more cholesterol than a steak.
Research has shown that cheese and other dairy products do not build strong bones nor do they slow osteoporosis. Dairy products tend to pull the calcium from the bones, instead of adding to the bones.
Foods that Have that Cheese Taste
Dairy-free cheeses – There are many brands of dairy-free cheeses that are plant-based out here. You can try soy, rice and other types of cheeses. Be sure you read the labels very closely, making sure no casein is in the product. Casein is a milk protein.
Avocado is a rich, creamy, monounsaturated fruit. It gives you the feeling in your mouth the same as cheese does. Even though avocado is a healthier choice, eating too many and regularly could cause you to gain weight.
Nutritional yeast (the Vegetarian Support Formula) is commonly found in natural food stores. It is a good source of vitamin B-12. Sometimes it is hard to find the Red Star Vegetarian Support Formula so I use the KAL brand. Nutritional yeast is very versatile . You can cook with nutritional yeast, sprinkle it on salads or any food to add that cheesy flavor.
Cheesy Sauces can be made by soaking raw cashews (or using cashew butter) and adding your seasonings. You can also use tahini. Use these alternatives for any recipe in which you want richness, creaminess and depth of flavor.
Once you have tried these foods, you will find yourself not having cravings for the animal-based cheeses as much. Soon your cravings will be a distant memory.
Source of Information: Breaking the Food Seduction: The Hidden Reasons Behind Food Cravings—And 7 Steps to End Them Naturally
Image: Naito8 / FreeDigitalPhotos.net