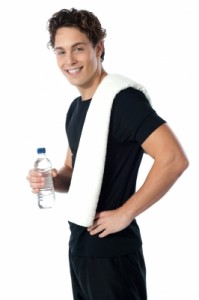 Today, out guest blogger is Uttoran Sen.
Good health is always taken for granted; it is only when something is not right that we start to appreciate the beauty of a healthy body.
There are certain habits that we build during our lifetime which contributes to good health, while some others are responsible for various diseases and ailments of our body.
The problem however is that the bad habits are far easier to develop and way too hard to get rid of while the good habits needs to be exercised so that they become part of our life and are quite easy to give up.
For example, getting up early in the morning is a good habit, but quite difficult to incorporate in your lifestyle if you are a late riser. Now, think of getting lazy in the morning and in no time you wake up routine will be messed up.
In this article, we are going to discuss seven such habits that we should include in our life style if we want to lead a healthy and happy life.
1) Walking – Do you walk enough? Yes, there is the lift, the car and the bike for your transportation, and yes online shopping and home delivery of pizzas to make your life easy, so why bother to walk around. With easy lifestyle, walking is a process that is hardly bothered with.
The solution is to make a habit of walking. If you are not an early riser or you got work in the morning then choose the evening walk. There is a difference between morning and evening walk. During the day time, thanks to all the vehicles thundering around the streets, the air gets polluted. So, an evening walk will mean the intake of that polluted air, which will partly settle down by morning. Hence there is definitely one good reason to do the morning walk. None the less, if evening walk is all you can manage, by all means, do it.
Any walking is better than no walking.
2) Drinking water – Do you drink enough water throughout the day? If you have started to count your cola intake, drop it, it is no good. Never try to replace your quota of daily drinking water with any other fluid, it never works. Make a habit of drinking water; this will include taking a bottle of water to your work, school or even road trips. Never leave home without a bottle of clean drinking water and the need to drink soft drinks will go down in time.
3) Eat healthy food – Is eating out becoming a part of your life? Surely once in a while we ought to have tasty restaurant foods and perhaps some junk foods as well, but making a habit of such things are no good. Start eating vegetables and even juicing vegetables as snacks. Surely not tasty enough but it will keep you full which mean less need for eating junk foods.
Cook foods at home, a dirty kitchen is loads better than a dirty stomach.
4) Get a cycle – Cycling saves time, it is quicker to get away with in busy streets while cars are blocked by traffic jams. It might save time but not effort. Any kind of transport that does not require you to paddle will be easy; naturally you choose the easy lifestyle. However, if diabetes is in your list of things to worry about, cycling might just be the right thing for you. While cycling helps in producing insulin in your body, your chances of developing diabetes will be low.
5) Sleep early – Our body has an internal clock that has developed over the past millions of years, even before we were humans. But lately with night-time internet surfing and other entertainment requirements like watching films and eating snacks, we have started to de-stabilize our internal clocks. The night is for sleeping, think about it – you might be able to get some sleep in the day time but your vital organs like liver won't be able to. Unless you are asleep in the night-time you can't give any rest to your internal organs which will work even if you are asleep during your day time. Think about it and go to bed early.
6) Get up early – See how the previous point adds up to this one. If you go to bed early and get at least eight hours of sleep before the sun rises up, there will be no need to over sleep during the day time. It is only due to lack of sleep during the night that makes you sleep late in the day.
Also, if you are still over sleeping, take the use of alarm clocks. However, if you make a strong commitment in your mind before going to sleep about waking up early, and specify the time of getting awake, your mind will be able to wake you up without the need for an alarm clock. Try it.
7) Develop a hobby – Count the list of things in your life that you call hobby – and then try to decide if they are constructive or not. Are these hobbies adding any value to your life, helping you in any way? If not then you need a change in your hobbies. Try incorporating certain hobbies like gardening etc. which will make good use of your time and improve your physical and mental health at the same time.
Habits will be part of our life, good or bad will depend on what you choose. If you choose the easy path, it will be mostly be the bad habits that will come to you. Do the things that are right for you and get good habits forcefully added in your system and – stick to them no matter how tempting it seems to get rid of them.
About the Guest Blogger – Uttoran Sen is a health blogger since 2004, his idea of a healthy lifestyle starts with drinking enough – http://www.lifesourcewater.com/ – clean drinking water and eating fresh vegetables. Connect with him on twitter or join his facebook fan page.
Image: FreeDigitalPhotos.net
Category: Healthy Lifestyles