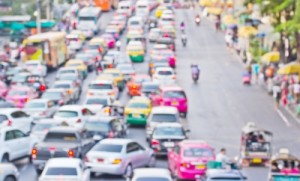 This is a guest post written by Rachel Thomas.
When you think about getting more traffic to your blog what is the first thing you have in mind? Is it paying for the traffic through pay per click programs? Is it the latest fad SEO technique or Google algorithm buster? Or is it through honest and stable means like organic traffic?
Organic traffic is the best kind of traffic to have for your blog because it will last. It does not vary depending on search engine changes or fad topics. Instead it stays stable through thick and thin. If you do it right it can only help your blog to get more and more traffic as time goes on.
Unlike these other methods there is no limit or get rich quick farce to organic traffic. Instead, it is based on the idea that hard work pays off and gradual progress is better than big ups and downs. Here are some ways you can get organic traffic to your blog and capitalize on the secure and stable form of readership:
 #1  Find Your Niche
The first thing that any blogger should do when they contemplate creating or changing a blog is to find their niche. A niche is the main topic that your blog will cover. It should be neither too narrow nor too broad.
You are looking to find a topic that will appeal to the most people without alienating very many. You also need to keep your topic broad enough so that you have content to fill your blog with.
For example, if you write a blog based on cats that is too broad. There are many cat sites out there and there is no way you can compete against the big names. Or if you go the other way you can write on calico cats in purple sweaters. This topic is too narrow and you will run out of things to blog about.
Try to find a happy medium. Maybe you can focus on cats in sweaters or people who dress up calico cats. This is a silly example, but it helps to illustrate my point.
It is better to be a big fish in a small pool than a little fish in a big pool. Find out what your main topic should be and then keep your blog's content focused on that.
#2  Who is Your Audience
After you figure out what your blog's topic will be about then you need to focus in on who your target market is. Who is your audience? What age are they? What gender? What global area? What education level? What income level? All these questions help you to determine what style of writing to use and what topics to concentrate on.
For example, if you are writing the cat blog then your target market could be either single women with cats they like to dress up, or children who like to play dress up with their cats, or even couples who find it funny to dress up their cats. Depending on who your target market is you would, of course, vary your content and blog style.
For the ones who find it funny you could use a sardonic or sarcastic writing style and connect your content to topics that interest them like social media or new technologies. For children you would keep your content simple and use lots of pictures.
For cat ladies you would connect in things like sewing, decorating, and the like. Even though your topic may be the same the way you go about sharing your content will change drastically depending on your audience.
#3  Do Your Research
The only way to find out who your target audience is and what they are looking for is to do your research. Once you have come up with a niche topic do some research and find out who you should target and what they are interested in reading about.
There are many sites that will give you this kind of information. Things like commonly searched terms and keywords are important factors in coming up with your blog's content.
You can also look at competing blogs to see what works for them and what does not. This way you can avoid making the mistakes of your competitors and come up with a better blog for your readers.
# 4 Use Keywords Wisely
After you discover what the keywords that go along with your central topic are, then you can use them in your blog's content. Keywords are what search engines use to funnel traffic to your site.
Using keywords well means that you get more traffic, and it is easy to include keywords naturally in your blog content. If you know what the keywords are you can simply create posts based around those words.
This not only gets you traffic but also helps you to create content that is actually useful to readers. You should also include keywords when you tag your post and in your title.
#5  Title Well
Speaking of titles, you should be very cognizant of what you title your blog posts. These titles are often the very first thing a perspective reader will see.
They should be informative of what the content is for the post, but they should also draw the reader in and make them want to click on the link. It is a good idea to use keywords in your title as these are commonly searched terms that will help your blog post to be found on search engines.
I also recommend using numbers in your title, especially if you do a list format. Numbers are very popular with readers and search engines alike. Something like "The Ten Best Cat Sweaters of 2013" will go over well with readers and search engines. Adding a date also makes your post seem current and important.
Conclusion
There are many more ways to get organic traffic to your blog, but these are the most important. You can make sure your blog's traffic is unaffected by algorithm upgrades or passing fads by investing in the traffic that lasts: organic.
Make your blog the best it can be, provide great content and your readers will come pouring in. Remember that it takes time and effort to maintain organic content but the long term results will definitely pay off big.
Think about what is important to you and make your blog shine.
Author Bio:
Rachel is an ex-babysitting pro as well as a professional writer and blogger. She is a graduate from Iowa State University and currently writes for www.babysitting.net. She welcomes questions/comments which can be sent to rachelthomas.author(at) gmail(dot)com.
Image courtesy of Feelart / FreeDigitalPhotos.net