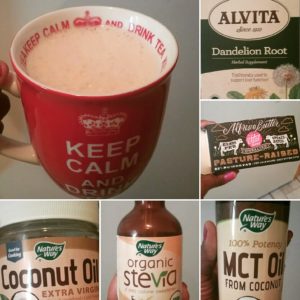 Are you a coffee drinker who's trying to kick the habit? Or do you need to stop drinking coffee because it's affecting your adrenals? Dandelion Root Tea is a healthy coffee substitute that will help you detox from caffeine.
One of my Favorites
Dandelion Root Tea is one of my favorite drinks. This tea has a roasted, nutty flavor and reminds me of the flavor of coffee.
The good thing about dandelion root tea is that it does not have any caffeine and it has anti-oxidants.
It is a way to get your coffee flavor fix, without getting the caffeine. Flavor and no caffeine is a winning combination, especially when you're trying to cut caffeine from your diet.
Benefits of Dandelion Root Tea
Dandelion Root Tea not only tastes good, but it also has some amazing health benefits.
helps support liver function
aids in relieving digestive problems
promotes a healthy appetite
gentle laxative
high in calcium, zinc,and iron
great source of B-complex vitamins
helps reduce inflammation
lowers cholesterol (studies show it has the potential).
Butter and Coconut Oil in your Coffee
The popular thing today is adding butter to coffee. It seems like everybody, and their mama is doing this.
What if you are cutting out the coffee, but still want to make this buttered coffee drink, without using coffee?
The good news is that you do not need coffee to have your 'buttered coffee.' You can use Dandelion Root Tea instead. Once your try this tea, you will forget about coffee.
For some of you who are heavy coffee drinkers, it may take some getting used to, but I believe it won't take long for your taste buds to change.
A Recipe for You

Ingredients
1 Dandelion Root Tea Bag – I use Alvita

*You can find this tea (Traditional Medicinals) at your local supermarket too.
1-2 Tablespoons of Grass-fed Butter – I love Vital Farms
1-2 Tablespoons of Coconut Oil
1-2 Tablespoons of MCT Oil
Vanilla Liquid Stevia to taste – I use Nature's Way

A dash of Pink Salt (optional)
A Dash of Cinnamon (optional)
Preparation
Prepare tea by directions on the package. After steeping tea, pour tea into a blender (optional). Add butter, coconut oil, and MCT oil to tea. Blend well. The butter alone makes it yummy.
You do not have to add all the recommended fat, but those who follow a ketogenic diet may add all three. It's a great way to get in some healthy fats.
Enjoy!
Have you added fat to your coffee or herbal teas?
(See Affiliate Disclosure)