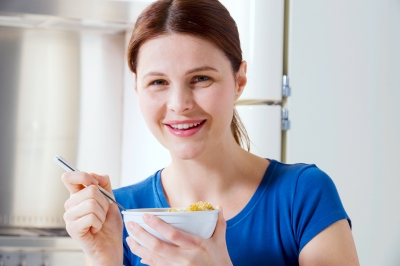 Today we have Dr. Jupitor Chakma as our guest blogger.
Vegetarians (especially pure vegetarians) are at higher risk of nutritional problems in compare to non-vegetarians (although it does not mean you should not become a vegetarian and in fact vegetarian diet is more healthy than non-vegetarian diet, especially diet with red meat and processed and refined food).
Although non-vegetarians are at lower risk of nutritional (under nutrition) problems, they are at higher risk of much more nutrition related problems. In fact non-vegetarians have greater risk of cardiovascular problems, which are integrally related to nutrition.
Vegetarians (if skinny or underweight) generally have more problems putting on weight; because plant-based foods contain fewer calories in compared to non-plant based foods such as meat, fish, eggs etc. We all, (non-vegetarians, vegans as well as pure vegetarians) should have a balanced diet for optimal health.
Some of the causes of low body weight or underweight among vegetarians are:
Low calorie intake (as mentioned earlier in this article),
Plant based foods have fewer calories,
Presence of high fiber (especially soluble fibers) results in bloating which reduce appetite and food intake,
Irregular eating habits due to lack of attraction towards food which may be due to absence of variety,
Disorders of small intestine such as malabsorption syndrome (fructose malabsorption), celiac disease etc. and intestinal worm infestation.
General weakness, which may be due to anemia (low percentage of hemoglobin, which is responsible for oxygen transport).
If you are a vegetarian (and underweight) and have a problem putting on some weight, the following foods can help you gain normal body weight:
Protein rich plant foods:
Cereals such as rice, wheat, maize etc. have good protein content (approximately 5-10%) in them.
Nuts such as peanuts, walnuts, almonds, pistachios and other nuts (rich in fats too and have very high calories and ideal to gain weight).
Legumes such as gram, peas, beans, pulses, Soya beans (one of the richest sources of plant protein).
Other plant-based foods such as drumsticks.
Fat rich plant foods:
Nuts: as mentioned above.
Seeds (pumpkin and many more) and oilseeds are rich in fat content.
Carbohydrate rich plant foods:
All types of cereals,
Potato, root vegetables (e.g. beetroot), tapioca.
Iron rich plant sources:
Beans and lentils
Banana, guava
Green leafy vegetables, cabbage, broccoli, turnip, etc.
Dried fruits such as dates, raisins, figs etc.
Consume the above mentioned plant-based foods to gain weight and to remain healthy. You do not need to consume each and every item mentioned here, but try to consume adequate amount from every category.
What foods to avoid while attempting to gain weight?
Try to avoid foods high in soluble fiber such as beans, oats etc. carbonated drinks, foods high in fructose or sorbitol (especially if you are suffering from fructose malabsorption).
Consult your doctor/dietician/nutritionist for best solution to your problem of underweight. If you are underweight, you may have an underlying medical condition and for that, consult your doctor.
About Author: A doctor and enthusiastic health blogger, who is eager to learn more about blogging. Dr. Jupitor Chakma, writes regularly on his Health Blog and Online Health Website. Visit these blogs for regular updates and to read more articles by this writer.
Image: Ambro / FreeDigitalPhotos.net
If you like the content, subscribe to my newsletter. Get exclusive emails, tips, news, blog post updates, and more when you join