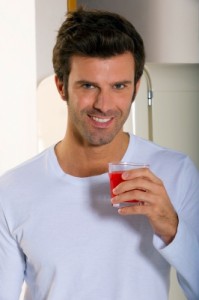 One of my goals for 2011 is to juice daily. Have I accomplished my goal? Let's just say, I am still working on it.
Since, I have done research for this article, I will have 8 ounces of fresh juice daily.
It is something about reading the benefits and seeing it all in writing that motivates me to make this goal a reality.
Importance of Juicing
It is a known fact that many people are deficient in vital nutrients because of poor eating habits. Years of eating poorly result in poor health.
Juicing nature's bounty can get you the vital nutrients that you are lacking without having to pop a pill.
Juicing regularly and drinking freshly prepared juice daily can result in your feeling better. Why not give juicing a try to see how it works for yourself.
What is Juicing?
Juicing is a process that one uses to extract the juice from fruits and vegetables. A juicer is an appliance that you should have in your possession because it helps you meet your goal.
The goal is freshly prepared juice. No preservatives, pasteurization, or anything, only juice from fresh organic produce made by your own hands.
Juicing separates the fiber from the juice in the vegetables and fruits, which results in nutritious juice. The juice has vital nutrients that the cells uptake immediately.
These nutrients are quickly absorbed in your body and you get the benefit of the vitamins and minerals fast.  There is no need for you body to spend energy separating the fiber from the juice. Your juicer does it for you.
Benefits of Juicing
Juices heal and protect the body
Gives new life to cells and organs
Strengthen the immune system
Provide added energy
Help lose weight
Prevent or reverse disease (or both)
Help you look younger and more radiant
Source:  The Juice Fasting Bible
What's in Raw Fresh Juices?
Living enzymes to improve digestion and break down mucous.
Powerful antibiotics to fight infections.
Anti-inflammatory substances help reduce pain and swelling.
Antioxidants which help fight cancer..
Polyphenols have protective and healing effects that are much more concentrated by juicing.
Organic sulfur compounds can detoxify poisonous chemicals and cleanse the liver and bloodstream.
Minerals
Vitamin K (found in dark-green leafy vegetables), beneficial to bone strength, the immune system, and blood
Phytochemicals help fight off many diseases.
Source: The Juice Fasting Bible
Get Started Juicing
You are probably wondering how you can start juicing. Well, stop wondering and  just do it! Your body will appreciate the fresh juices it receives.
You will need a juicer and there are many different types of juicers on the market. Decide which one is best for you and then go for it.
Types of Juicers
Manual Press Juicers
Masticating Juicers
Centrifugal Juicer
Centrifugal Ejection Juicers
Single Auger Juicers
Twin Gear Juicers
My first juicer was a centrifugal ejection juicer.  As you will see in the video below, I now have a twin gear juicer and I am very happy with it. I purchased my current juicer from Discount Juicers.
If you are in the market for a juicer, Discount Juicers might have the deal for you or you can mosey over to my Amazon Store and check out what Amazon has to offer.
Conclusion
It matters not the type of juicer you have, what matters most is that you start juicing. Start juicing today and reap the awesome benefits that come from juicing.