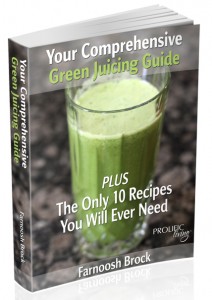 How many of you have said, "I want to start juicing, but I don't know where to begin?" Yeah, I know you have thought that, because I have thought those same thoughts myself.
I am not a regular juicer, not because I don't have a juicer. I actually own an amazing juicer, a Green Star Juicer. My inconsistency when it comes to juicing is my fault and, well lets face, I like things fast and easy. I will make a smoothie before making a juice.
Farnoosh Brock, of Prolific Living, contacted me and asked me to review her Green Juicing Guide. I am excited to honor her request because, I do own a few juicing books and being that I want to get back to juicing regularly, I thought this guide would get me back on the path of being a regular juicer.
Farnoosh's green juicing guide is very good. I've read many books on juicing, but this guide breaks the in's and out's of green juicing down. After reading the green juicing guide, I will dust off my juicer and put it to use. I know the benefits of juicing, so I am willing to add juicing back to my healthy living routine.
What's in the Comprehensive Green Juicing Guide?
The green juicing guide is a guide to how you start green juicing. Farnoosh has been juicing for four (4) years and has much to share about her experience with green juicing.
Learn why it is important to drink green juices and how beneficial they are for you. Discover why Farnoosh does not recommend blenders or food processors for juicing. She recommends that you invest in a juicer.
You will also learn that green juices may not taste that good to your taste buds, so you will have to adjust your recipes to satisfy your taste buds. You will notice in this guide that the author does not stress that you have to juice all organic fruits and vegetables.
You will learn about cleansing, storing and preparing your produce in advance. This is good to do, because when it is time to juice, all you have to do is take out what you need and start juicing.
There are ten (10) green juicing recipes in this guide and much more. So don't worry about coming up with your own juices, especially if you are a green juicing beginner
Why You Should Read this Comprehensive Green Juicing Guide?
I have never seen a green juicing guide. This green juicing guide is comprehensive, yet very easy to read and understand. Farnoosh tells you what you need to know in a very personable way.
Reading about her experience with green juicing, encourages you to go ahead and start juicing. You'll be saying to yourself, "If she can do green juicing for four (4) years, surely I can start juicing today."
Farnoosh inspires and encourages you to give green juicing a try all while presenting the information in a way that makes you want to run out and buy a juicer or use the juicer you have. Not only that, you will want to go as soon as you can to the market to buy your produce for juicing.
If you are thinking about juicing, but don't know where to start, I recommend that you get your hands on Your Comprehensive Green Juicing Guide by Farnoosh Brock.