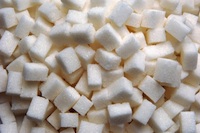 This article is written by Carolyn Akens.
Sugar is very addicting and when it grabs hold of you it is hard to let it go.  End your affair with sugar today by incorporating the tips below:
#1 – Avoid artificial sweeteners.
They are toxic; increase your appetite and your sugar cravings. Artificial sweeteners also inhibit fat metabolism.
#2 – Don't buy junk food and keep it out of your home.
Having junk food in your home inspires late night binging.
#3 – Eat more fruit and sweet vegetables.
Eat these to quench your cravings…yams, carrots, parsnips, squashes, beets. Remember that fresh vegetables as well as fruits are packed with fiber, vitamins, minerals and antioxidants that help to keep your body in balance and functioning at it's peak.
#4 – Exercise.
Did you know that movement helps the body to metabolize glucose? Get moving!
#5 – Separate emotion from food.
Our culture is obsessed with sugar especially as a reward and during the holidays. Find better options.
#6 – Crowd Out.
Going cold turkey from all sweets may cause you to have feelings of failure and disappointment. Know your limits and use the suggestions in #3.
#7 – Read Labels.
Read the ingredients on every package you buy, instead of the sugar grams. You will notice where the sugar is sneaking in and start to find better options.
#8 – Not talking about calories.
When you're kicking the sugar habit rely on healthy alternatives, not modified amounts of the same old stuff. The body quickly remembers old habits. Small amounts will trigger return cravings and bingings.
#9 – Eat good fats,
Nuts and coconut oil. Good fats will help to modulate cravings and stabilize blood sugar.
#10 – Seek help and support.
You don't have to do it alone. Sugar cravings can be conquered. Contact me today! Try the recipe below as a starting point.
Curry Cashews
Ingredients:
• 2 Tablespoons coconut oil
• 2 teaspoons madras curry powder
• 1 teaspoon smoked paprika
• 1 teaspoon ground cumin
• 1 teaspoon ground coriander
• 2 cups raw whole cashews
• 1 Tablespoon coconut palm sugar
• 1 teaspoon Himalayan Pink sea salt or to taste
Directions:
1. Preheat oven to 300F. If coconut oil is solid, heat in small skillet until melted. Add the curry, paprika, cumin, coriander and stir until fragrant.
Place the nuts in a mixing bowl. Add the spiced oil, coconut palm sugar, and salt. Toss the ingredients until nuts are coated. Spread the nuts on a baking sheet lined with parchment paper. Shake the baking sheet occasionally until the nuts are fragrant and golden, about 20 minutes.
Until next time…Live & Thrive in Abundant Good Health!
Carolyn Akens is a Certified Holistic Health Coach, Chef, and Raw Food Chef and Educator.  Learn more about here at http://www.chefcarolyn.com.
Image courtesy of Suat Eman / FreeDigitalPhotos.net