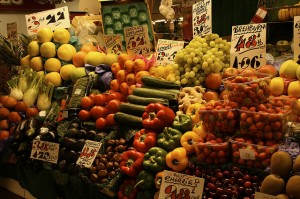 There are many people who think that eating a vegan diet (a diet which does not include any animal products) is an expensive diet for one to eat. Eating a vegan diet is not expensive at all. If you ask me, I believe it is one of the cheapest diets that anyone can eat.
I am the only one who is vegan in my household. I have moved to the point of not preparing animal flesh in my house, but if my husband wants yard bird (chicken) or fish, then I may prepare it. Honestly, I can't remember the last time I cooked any animal flesh in my home. I usually stick with making tasty vegetables like kale, collards, soups, broccoli, peas, beans, brown rice, etc.
Have you seen the prices of chicken, fish, beef, and pork lately. Whenever I have visited the meat section (I can hardly stand it, site, smell and all) of the grocery store, I am always taken aback by the prices of these foods. And people say eating a vegan diet is expensive. I beg to differ on that.
Today, I will tell you why eating a vegan diet is cheaper than eating the Standard American Diet. Eating vegan or a plant-based diet is cheaper in the long run because:
1. You save money. Shopping at Farmers Markets and in the produce section of the grocery store is a great way to save money on you grocery bill. You can purchase organic produce at reasonable prices.
2. You save time. When you purchase plant-based foods, you don't have to do a lot of cooking of these foods, unless you want to. Either way, food preparation and clean-up takes less time, which gives you more time to spend enjoying your meals with your family and friends.
3. You save your health. Studies have shown that people who eat a diet rich in plants have better health and are less likely to die from certain diseases. You may feel great today, while eating a Standard American Diet, but in the long run, it will catch up with you.  Bernando LaPallo has lived to be 109 years old by eating a predominantly plant-based diet.
A few statistics.
One out of thirteen Americans now has diabetes and ratio continue to rises.
One out of every three Americans will die from heart disease.
One third of the adults twenty years of age and over in this country are obese.
Source of information taken from The China Study written by T. Colin Campbell, Ph.D. and Thomas Campbell II.
Here is a video interview of Dr. Campbell speaking about the benefits of eating a plant-based diet.
4. You save on super foods. There is no need to purchase super foods. Eating a plant-based diet can get expensive if you are one who purchases a lot of "so-called" super foods. Save money by purchasing the real super foods (whole organic plant foods).
I have listed a few ways how eating a vegan/plant-based diet can be cheaper than eating a Standard American Diet. Yes, you can save money, but there are so many other things that you can save, with the main one being your health. Eating a vegan/plant-based diet can help you in more ways than you could ever imagine.
How has eating a vegan/plant-based diet been cheaper and a beneficial for you?
Photo credit
: 
Naughty Architect