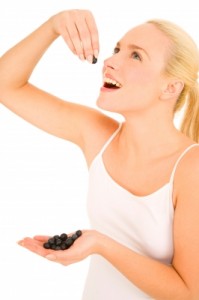 Summer is the time when berries are in season where I live.  Blueberries are available from early May through August, and the peak month is July.
Canada and the northeastern United States produce the greatest amounts of blueberries, because they grow best when the days are long and the nights are cool.
The price of berries are usually reasonable around this time of the year.  My favorite berry is the blueberry, with strawberries coming in second.
I love the taste of blueberries and I especially enjoy a good banana blueberry smoothie; my favorite.
The Blueberry
Blueberries are rich in phenolic compounds.  The active phenolic compound in blueberries is anthocyanin.  The phenolic compounds give blueberries a rich blue color.
Anthocyanins are strong antioxidants; inhibit the LDL cholesterol oxidation, promote growth and repair of connective tissue, anti clotting activity, and anti-inflammatory.
Powerful Little Blueberry
Blueberries are not very big, but they are one of the best berries and fruits to eat.  Blueberries taste great and they are very protective:
contains silicon, which helps rejuvenate the pancreas
good for diabetic conditions
neutralize free radicals that damage DNA
protect against urinary tract infections
may help reduce effects of aging
improved problems with tired eyes
Purchasing Blueberries
Look for quality blueberries that are plump, look fresh, clean and dry.  Choose berries that are deep blue, black, or purplish in color.  Stay away from overripe berries.  Overripe berries are dull in appearance, soft and watery and moldy.
Banana Blueberry Smoothie
1 banana
1/2 cup fresh* or frozen blueberries
1/2 -1 cup of water or milk of your choice (adjust to your liking)
*If you like your smoothies cold and frosty, add a few ice cubes.  Add liquid as needed.
Blend all ingredients together and enjoy!
Information Source
Becoming Vegan
Related articles