Nope, a fitness tracker is not a waste of time! There, I answered the question, but keep reading to learn why it's not a waste of time.
One thing you may not know about me is that it takes me time to catch on to things. The reason for this is because, if I don't understand how a particular item works or why I should use it, then I usually don't bother trying it.
I remember a few of my blogging buddies talking about Fitbit a few years ago, but it didn't register with me that I needed to check out this fitness tracker.
I finally caught on to fitness trackers this year, boy oh boy, am I a late adopter; better late than never. Here's how I ended up buying a Fitbit.
Instagram is the reason why I bought a fitness tracker. I was following someone, who shared photos of the calories she burned after her workout sessions, and I was intrigued.
Being the geek that I am, I jumped on the internet and started searching for fitness trackers. The internet convinced me that I needed this fantastic gadget in my life, so in July of this year, I drove to Academy and bought a Fitbit Charge 2
 (Affiliate link).
Best fitness device purchase I've made to date.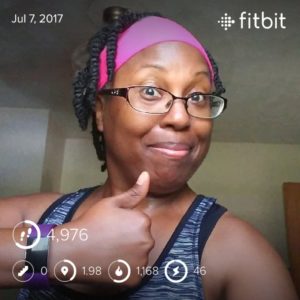 The Benefits of Using a Fitness Tracker
The Fitbit is my constant companion. I have taken a few breaks from tracking myself because sometimes, I get tired of it. However, I don't stay away from it for too long.
I am not a fitness expert, so the benefits I share with you are from my personal use and how it has helped me.
The fitness tracker helps me:
1.  Be mindful of how active I am. I can track my steps, the amount of activity I've done for the day, stairs climbed, and other exercises too.
2.  Stay on top of my calories and macro-nutrients. I avoided tracking calories and macro-nutrients, mainly because I didn't understand it. Today, I know how this stuff works and why it is essential to know how many calories I'm taking in and how many I'm burning. Energy in and energy out really is the key to getting results.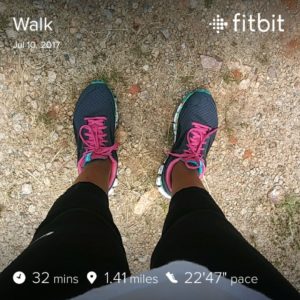 3.  Monitor my heart rate. I know my resting heart rate, and I can see what my heart rate is when I am in fat burning, cardio, and peak mode. According to my measurements, my cardio fitness is – good to very good, for women my age. Not too bad for this 40 plus-year-old woman.
4.  See if I am getting enough quality sleep. I saved this for last because this is my weakest area and I have a terrible habit of not getting enough sleep.  I just have to make a concerted effort to do what I know is necessary and make it happen.
Final Words
Using a fitness tracker is not a waste of time. It helps you track your heart rate, fitness, food consumption, and other vital markers; if you use it.
If you want to make great strides in making lifestyle changes that stick, use a fitness tracker. Tracking your progress is one of the best actions you can take. Try it; you'll love it!
Discussion:  Do you use a fitness tracker? If yes, tell me about it.