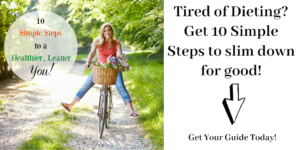 The purpose of this post is to tell you about my most recent eBook, 10 Simple Steps to a Healthier, Slimmer You.
I share simple steps that you can start doing today that will jump-start you to becoming a healthier, slimmer you.
Note:  In order to get slimmer, you must first get healthier.  I am a firm believer in making healthy lifestyle changes first, then focusing on the other changes you want to see.  Actually, once you start adopting healthier habits, the other stuff you want will happen almost naturally.
10 Simple Steps to a Healthier, Slimmer You is a 15-paged eBook that has practical tips you can start doing today.  There is no time like the present to begin working on you and making healthy changes.  You are worth it! Grab your free copy today, here.
Other Tidbits
I am currently working on re-branding and creating products. I would love your feedback because I want what I produce to be something that you need and will recommend to others.
Question:
What do you need the most help with in your life as it relates to making healthy lifestyle changes? Here are some examples:
quitting sugar
stopping belly bloat
putting an end to binge eating/overeating
burning fat (weight loss)
or finding the best way of eating for you.
Please leave your feedback in the comment section or send me a message here.
I appreciate your feedback and look forward to learning what your biggest challenges are as well as what you need the most help within your life.
Get your Free eBook Today!
Thank you for hanging in here with me and for your support!  Download your free eBook today here.