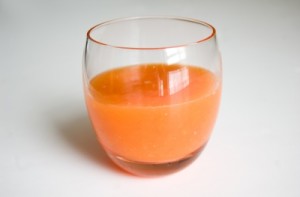 Do you want to juice fast, but haven't the slightest clue about how to begin?  Do not put it off any longer because you are not sure.  Today you learn how to begin a juice fast.
What is a Juice Fast?
A juice fast is a fast of drinking mostly fresh fruit, vegetable and green juices.  You can also include herbal teas and other liquids if you desire.
Reasons Why People Fast
Social Action
Political Action
Spiritual Goals
Personal Goals
Break Food Addictions
Major Dental Work
Healing the Body
Detoxification
Weight Loss
Starting Your Juice Fast
You made up your mind that you are ready for a juice fast.  Here are some questions you should ask yourself:
Why am I fasting?
When will I fast?
Where will I fast?
How long will I fast?
What kinds of juices will I drink?
Will I tell people about my the fast?
The Pre-Fast Diet
You know the reasons why you are fasting and you have set a date.  A few days before beginning your fast, you should do a pre-fast diet.
The purpose of a pre-fast dies is for preparation.  You prepare your body, physically and mentally for the fast.
A typical pre-fast diet is one to three days.  The number of days that you pre-fast is determined by you.
A pre-fast is great for those who have never fasted or those who are reluctant about starting their juice fast.
What to eat on a pre-fast diet?
Exclude the following foods:  grains, breads, dairy, fish and flesh foods.
Day 1:  Cooked vegetables, salads, fruits, and juices
Day 2:  Only raw salads, fruits and juices.
Day 3:  Fruits and juices
You are gradually moving toward your primary goal: preparing your body and juice fasting.
Mono-Diet
You do not have to follow the pre-fast diet above.  You can do a mono-diet.  A mono-diet is when you eat one food for that day.  For example, you may choose watermelon as your mono-diet food.
The advantage of doing a mono-diet with cleansing foods is that when you begin your fast it may help shorten your fast.
Another way you can pre-fast is by missing a few meals.  You can take two or three days and skip dinner on those days.
Going for It
If you are ready and feel that you can do the fast without doing a pre-fast diet, then go for it, especially if have fasting experience.  Everyone is different and you should always do what is best for you.
Some people need time to adjust and prepare.  During this time, you prepare yourself for the challenge of fasting.
It does not matter if you gradually move into your fast or jump in;  you have to stay disciplined and focused to successfully complete your fast.
A Quick Juice Recipe
Strawberry Newton
1 medium apple
1-inch wedge peeled pineapple
1 cup strawberries
Wash fruits.  Remove and discard strawberry greens.  Juice and serve. (The Juicing Book)
Discussion:  Have you done any fasting lately or do you have one planned?
Information Source:  Juice Fasting and Detoxification
Image courtesy of graur razvan ionut/ FreeDigitalPhotos.net