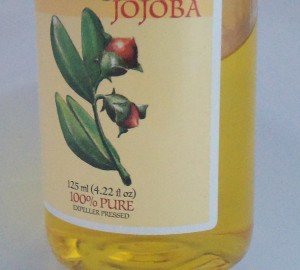 I have made the switch to all natural products for my skin, scalp and hair.  I had no problems finding and using natural products for my skin, but it took me a while to find the right products for my scalp and hair.
During my research, I found that jojoba oil is a good moisturizer/emollient for the skin, scalp and hair.
After reading about jojoba, I decided to give it a try it.  I purchased a popular USDA organic jojoba oil and noticed that it had a very bad smell.
I cannot use a product that smells like burnt peanuts that have turned rancid.  I did more research and learned that jojoba oil is not suppose to have a strong rancid odor.
This popular jojoba oil was not moisturizing for my hair.  It actually made my naturally dry hair, drier than ever.  Dryness leads to breakage and that jojoba oil had to go!
I took a leap of faith and placed an order with a company that makes 100% pure unrefined golden jojoba.  The jojoba sold by The Jojoba Company has a very pleasant odor.  The quality is one of the best I have ever used on my skin, scalp and hair.
What is Jojoba?
The word "jojoba" (pronounced ho-ho-ba) refers to both the plant and the extract of the seed (Simmondsia chinesis).  Jojoba seeds contain a good amount of liquid wax esters.  The jojoba esters are similar to the natural restorative esters found in the sebaceous glands for our skin.  Pure jojoba contains alpha, delta, and gamma tocopherols, al natural forms of the anti-oxidant, Vitamin E.
Pure Jojoba is Not "Oil" (I didn't know)
Most jojoba is labeled "jojoba oil."  Pure jojoba is a wax ester and not an "oil."  If you are interested in purchasing jojoba, but find the jojoba is labeled "jojoba oil," find out from that company what is in the product.  It could be mixed with other oils.
Characteristics of Pure Jojoba
Pure jojoba, "liquid gold" is extracted from a seed.  It makes your skin and hair smooth as silk and helps retain moisture.  I am amazed by how quickly it absorbs into the skin and hair.
Jojoba:
is non-allergenic and can be used on the most sensitive skin.
is non-comedogenic;  it does not clog pores.
is excellent "carrier" oil for essential oils
does not stain;  washes out with hot water and detergent
has a faint earthy odor, which most people do not notice.
Ways to Use Jojoba
Jojoba has personal and professional uses.  Jojoba is good for the following:
helps soothe and restore elasticity to dry skin.
conditions and softens the skin.
helps with acne.
provides soothing relief for psoriasis.
removes make-up.
conditions and softens the cuticles.
conditions scalp and hair by preventing dryness and by restoring manageability.
helps prevent dryness and restores suppleness to chapped and cracking hands.
shaving the face and legs.
massages.
aromoatherapy.
Storage of Pure Jojoba
Jojoba does not need refrigeration.  Store at room temperature away from direct sunlight.  Direct sunlight does not affect the quality, but it will cause a change in the color.
Jojoba may solidify in cold weather, but this does not compromise the quality the product.  If your jojoba solidifies during cold weather, allow the jojoba to thaw at room temperature.  Keep containers closed to avoid contamination from other odor sources.
Conclusion
There are many oils out here that are good for the skin, scalp and hair, but I have found that jojoba is one of nature's best moisturizers.  A moisturizer I will always use!
I am not affiliated with The Jojoba Company.  I am just a very satisfied customer.
Information Source:  The Jojoba Company Brochure