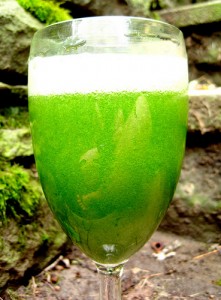 Are you a juicer or a blender type of person? I am a blender type of person. This means that I blend more than I juice. I am realizing that I may need to juice more.
As a matter of fact, I plan to do more juicing and to possibly do a juice fast in the future. But for now, I am reading information about juicing, so that I can do things the right way.
While thumbing through Dr. Jensen's Juicing Therapy book, I came across some interesting information about green juices/green drinks. Reading this information has motivated me to take a closer look into juicing regularly.
It does not make any sense for me to have a Tribest Green Star 3000 Deluxe Juicer
and let it collect dust. Mr. Green Star, your gears are about to get a good work out.
Why Green Juices?
Green juices have chlorophyll, essential trace minerals, vitamins and other nutrients that are beneficial for the body. Chlorophyll is the "lifeblood" of plants and the chlorophyll molecule is almost identical to the hemoglobin molecule of blood.
Juices rich in chlorophyll has a cleansing effect on the bowels and elimination systems. This results in the cleansing of the blood, lymph, and intercellular fluid. A clean body is a well oiled body, meaning that it works well and is efficient, assimilates nutrients well, and is full of energy.
Remedial Effects of Chlorophyll on the Body
Helps build a high blood count
Counteracts toxins
Helps purify the liver
Feeds tissues magnesium
Alleviates blood sugar problems
Improves milk production
Reduces or eliminates body odors
Improves nasal drainage
Relieves sore throat
Soothes gastric ulcers
Reduces catarrhal discharges
Improves varicose veins
Cleans and deodorizes the bowel
Soothes the inflammation of some forms of hepatitis
Supports blood coagulation in hemophilia
Alleviates symptoms of asthma
Helps sores heal faster
Destroys bacteria in wounds
Slows nasal drip
Benefits inflamed lymph organs (tonsils, appendix, etc.)
Soothes painful hemorrhoids
Revitalizes vascular system
Reduces pain caused by inflammation
Green juices are high in chlorophyll. Who wouldn't want to start drinking green juices? This is enough information to give me that push I need to start drinking fresh green juices.
Source of Information: Dr. Jensen's Juicing Therapy : Nature's Way to Better Health and a Longer Life
Discussion: Do you drink green juices? If you do, what's your favorite recipe.