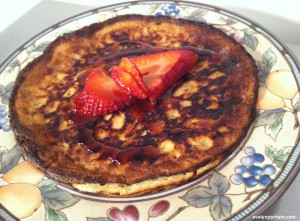 I had a taste for pancakes this past weekend and I had no idea how to make these pancakes.  I knew I wanted to use the brown rice protein powder I have in the cupboard, but had no recipes.
I searched the internet for brown rice protein pancakes and found a few recipes.  I have not made pancakes in years, but I was willing to try my hand at making something different. 
Well, my brown rice protein pancake experiment was a success.  My husband really enjoyed the pancakes.  The brown rice protein pancakes passed the husband taste test.  This means the pancakes are pretty good. 
The Recipe:

 

Brown Rice Protein Pancakes
These pancakes are very easy and quick to make.  You can add extra ingredients (flavors and spices) to suit your taste.
Serving: 1
Ingredients
1 Scoop of Brown Rice Protein (my powder has 15 grams of protein in 1 scoop)
1 Egg
1/2 Banana (mashed)
1 teaspoon of Chia Gel (1/4 cup of Chia seeds + 1 cup water, allow time for seeds to absorb water)
1-3 tablespoons of Milk (I used unsweetened almond and coconut blend.  Use enough milk so you have a batter consistency to your liking).
1 tablespoon of Coconut Oil
Sweetener – Coconut Nectar (optional)
Vegan Option:  Omit the egg and use 1 tablespoon of chia gel.
Directions
Mash banana.  Add the brown rice protein powder, egg, chia gel and milk.  Blend and mix ingredients well.  If you like a thicker batter, use less milk and if you like a thinner batter use more milk. 
Place coconut oil in skillet and warm oil on medium heat.  Once the oil is hot, pour batter in the skillet.  Flip pancake when you see open bubbles in the batter.  This is a sign the batter is cooked thru.
Serve pancake plain or topped with berries or a fruit of your choice.  Drizzle coconut nectar or a sweetener of your choice on the pancake.  Enjoy!
Note:  I used Brown Rice Protein Powder, because it is the protein powder I had, but you can use any protein powder to make your protein pancakes.
Final Words
If you want to boost your protein intake, this is good way to do it, especially if you have a taste for pancakes.  This pancake is very filling and you don't have to worry about being hungry an hour later.  Give it a try and let me know how you like it.
****