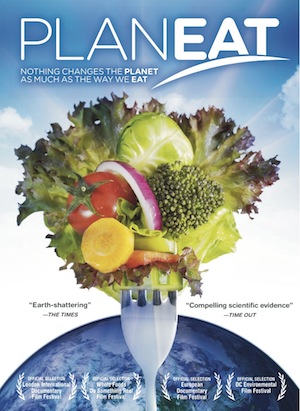 I received a free copy of the Planeat documentary for review and I must say, it is worth watching.
Who Should Watch Planeat?
Everyone should watch this documentary, especially if you find it hard to stick with eating a plant-based diet. This documentary will surely help you get back on track.
Why You Should Watch Planeat?
You should watch Planeat if you are curious about eating a plant-based diet. If you don't have a clue about how eating animal-based foods effect the environment, Planeat helps you understand how animals impact our environment.
What is Planeat?
Planeat is a documentary that re-examines the consumption and consequences of including meat and dairy in the diet.
It is not all scientific, because you get to see hands-on, how chefs prepare plant-based meals that look so appealing that your mouth will water.
Planeat makes its début on July 3, 2012 from the home entertainment label True Mind. The suggested retail price of the DVD is $19.98
Rating: NR
Running Time: 72 minutes plus extras
Language: English
The DVD Extras include:
Message from the filmmakers Shelly Lee Davis and Or Shlomi
Film Trailer
Deleted Scenes
Interview with philosopher Peter Singer
 What You Learn from Planeat
You learn about the foods you should eat and how those foods  impact the environment. You get a glimpse at how to prepare tasty plant-based meals.  You also learn about the research and work that three prominent scientists have done and continue to do.
Those scientists are:
Dr. T. Colin Campbell, author of The China Study. Dr. Campbell explored the link between diet and disease. He conducted a research study with Cornell University, Oxford University and the Chinese government that took 20 years to complete. This research found that populations that ate a high amount of animal protein were more likely to have heart disease, diabetes, and cancer than those who ate a plant-based diet.
Dr. Caldwell Esselstyn, cardiac surgeon at the Cleveland Clinic. Dr. Esselstyn, and author of Prevent and Reverse Heart Disease, conducted his own study with 18 of his patients who had serious heart problems. The patients ate a plant-based diet under and Dr. Esselstyn found that some of his patients were able to arrest and even reverse the coronary artery disease.
Professor Gidon Eshel (Physics and Geosciences from Bard College) researched how our food choices impact our land, oceans and atmosphere. He examined closely how the Western diet impacts the environment. Professor Eshel discovered that red meat was the worst offender to the greenhouse gas emissions. The research the he finds is compelling.
Final Thoughts
Planeat is a film that you should see. It helps you take a closer look at what you eat and how it impacts the environment. The most important thing that I took away from this is that food can either make me or break me (health).
Dr. Campbell said something that I will always remember: Whole food = real health.
Do know that food is a choice. "You can repeat your old eating habits or you can make the next meal a new one (quote from film)."
Planeat will definitely have you thinking about how your diet impacts the environment as well as your health. I didn't realize how much of an impact diet had on the environment, until I watched Planeat.
I recommend that you check out the Planeat documentary and while you're at it share it with your family and friends.
Giveaway
I have (2) Planeat documentaries. All you have to do is leave a comment and share this post on Twitter.
Your tweet should look like this:
Planeat Documentary Film Review and Giveaway http://bit.ly/LWNDtN (from @evelyn_parham)
Use the Tweet Button above or below this post to share this post on Twitter.
The contest is open until, Monday, June 18, 2012. I will let the winners know in the comment section if he/she is the winner, so make sure you subscribe to the comments.
Discussion:  Have you heard about Planeat and what are your thoughts?  Do share!