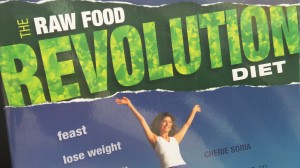 Do you want to lose weight and have more energy?  If your answer is yes, then you should try The Raw Food Revolution Diet.
Today marks day one of my 30 day Raw Food Challenge and the Raw Food Revolution Diet has helped me with my plan.
After reading The Raw Food Revolution Diet, I am confident that I will have no problems being 100% raw for the next 30 days.  Plus, I have a good support group.  You cannot get any better than that.
Success Story
I was very impressed with the success stories of the authors.  One of the main things that blew me away about the success stories were the ages of Cherie Soria and Vesanto Melina.  Brenda Davis is also an author and she is a little younger than Cherie and Vesanto.
All three authors look very young for their age.  The Raw Food Revolution Diet
not only helps you feel younger, but it obviously helps you look younger too.
The Raw Food Revolution Diet Chapters:
Chapter 1: Take the First Step Toward Vibrant Living
Chapter 2: Achieve Permanent Weight Loss with the Raw Food Revolution Diet
Chapter 3: Getting the Nutrients You Need
Chapter 4: Food and Equipment Basics for the Raw Revolution Diet
Chapter 5: Menus to Nourish Your Body and Please Your Palate
Bonus: Delicious Recipes
If you are looking for a book that will help you kick-start your journey to raw foods, then you should read this book.  Everything is laid out for you and if you follow the recommendations in this book you will succeed at eating a raw food diet.
What to Expect from The Raw Food Revolution Diet
You will find information about how much protein, carbohydrates and fats you should include in your diet.  If your goal is to lose weight, then you will have to go a little lite on the fatty foods such as avocados, olives, nuts, seeds and oils.
There are some very tasty recipes in this book.  No need to worry about getting bored with raw foods.  I love that they provide the serving sizes and nutritional information about the recipes.
If you do not have a clue about how to plan your raw food menu, you have six menu plans that will help you (one includes a cooked meal).  You also get the nutrients that each menu provides, which is helpful, especially when you want to make sure that you are getting what you need.
The authors, Cherie Soria, Brenda Davis, and Vesanto Melina, keep everything simple, while providing you with nutritional information.  There is no need to worry if you can survive eating The Raw Food Revolution Diet, because they tell you exactly what to do.
Below is a recipe I really enjoy.  I thought I was eating tuna.  I hope you give it a try.
Not Tuna Salad (Yield: 1 1/2 cups/370 ML (6 Servings)
1 1/2 cups almonds, soaked for 24 hours, rinsed and drained
1 cup sunflower seeds, soaked for 4-6 hours, rinsed and drained
1/2 cup purified water, as needed
1/2 cup minced celery
1/2 cup minced red onion
1/2 cup minced fresh parsley
1/3 cup of freshly squeezed lemon juice
1 tablespoon  kelp powder
1 1/2 teaspoons fresh dill weed, or 1 teaspoon dried
1/2 teaspoon salt
Process the almonds and sunflower seeds through a Champion or Green Life Juicer fitted with the homogenizing plate.  If necessary, use a very small amount of water, alternating with the nuts and seeds, to facilitate processing.  Alternatively, process the almonds and sunflower seeds in a food processor fitted without S blade, although the texture will not be as fine.
Transfer the mixture to a large bowl and stir in the remaining ingredients.
Stored in an airtight container in the refrigerator, Not Tuna Salad will keep for put 1 week.
Nutrition Note: This dish provides an impressive 13 grams of protein and 6 grams of fiber per serving.  It also packs over 35% of the RDA for biotin, riboflavin, thiamin, and vitamins E and K.