A few weeks ago, I went to Vitamin Shoppe to buy a digestive cleanser. I purchased the Mag O7 (Affiliate link) based on what I read on the bottle, "The Ultimate Oxygenating Digestive System Cleanser," and it does not disappoint.
What is Mag O7?
Mag O7 is elemental Magnesium obtained from a proprietary blend of ozonated Magnesium Oxides, and it also has elemental Potassium.
It is gentle, and fast acting oxygen cleanse that works overnight for most people.
It gently softens unwanted buildup in the digestive tract while providing beneficial oxygen to the digestive system.
Mag O7 is, gluten-free, non-GMO, made in an FDA registered facility, made in the USA, and certified vegan.
Who Does Mag O7 Help?
Mag O7 may help people who are:
Experiencing slow and sluggish digestion
Struggling with common digestive irregularities
Preparing for a lifestyle change or special event.
Note: Mag O7 is not intended to be used as a magnesium supplement.
My Thoughts About Mag O7
I had no prior knowledge of Mag O7  (Affiliate link) and no expectations.
The first night I took three capsules and the next morning, nothing happened.
I decided to take five capsules on the second night, and that did the trick.
Mag O7 is gentle, and I had no stomach cramps like I remember having with herbal teas and laxatives.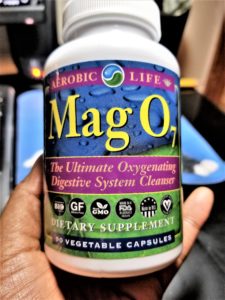 I know this is too much information, but if you have to fart/pass gas you might have an accident; it's that gentle.
Take Mag O7 on a night when you don't have any early morning appointments or engagements.
I took five capsules on the third night, but I discovered that 2-3 capsules are all I need.
Gurgling, Bloating, and Gas
My digestive area made lots of weird noises, which is not the norm.
The gurgling was so loud, that my husband, asked, "What's going on with your stomach?"
Decreasing the number of capsules decreased the gurgling, but the bloating and gas went away.
Note: I think the oxygen caused the gurgling, but I could be wrong.
Final Thoughts
I was surprised how gentle Mag O7 is and how well it cleanses.
If you are looking for a digestive cleanser, I recommend you give the Mag O7 (Affiliate link) a try. I don't think you will be disappointed.
Get blog post updates delivered to your inbox.  Sign Up