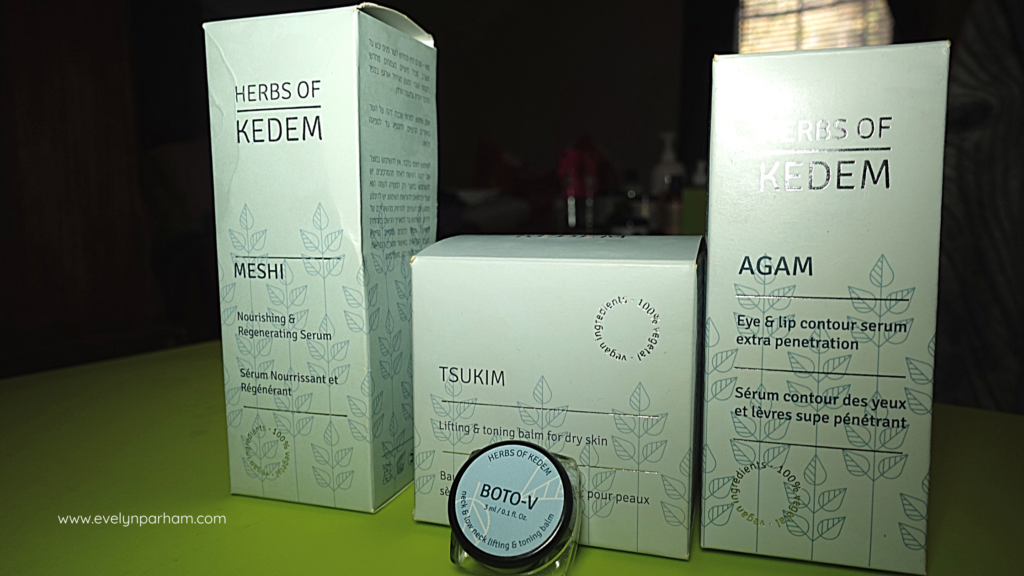 Although this is a sponsored post, Evelyn shares her honest thoughts and opinions about the skincare products she received from Herbs of Kedem.
Herbs of Kedem is based in Israel and produces herbal and mineral products for facial skin, hair and scalp, body, nails, and well-being.
The herbs used are obtained from the Judean Desert. With the expertise of Dr. Amir, Herbs of Kedem specializes in bringing out the therapeutic properties of the plants used in the product formulations.
Herbs of Kedem products have organic ingredients, have no synthetics, no added fragrances, are vegan, and are cruelty-free.
Skin Care for Anti-Aging
Herbs of Kedem sent me four products to try and review. And I tried the following skincare products: Meshi, Agam, Tsukim, and Boto-V.
About the products
Meshi (Nourishing and Regenerating Serum) – Vegan oil-based serum, rich in vitamins and anti-oxidants. It permeates the skin fast. It is best for dry skin. A small amount is all you need. The container is airless, which results in longer shelf life.
Ingredients:
Olive (olea europaea) oil, virgin cold press coconut (cocos nucifera) oil, Jojoba (buxus chinensis) oil, sesame (sesamum indicum) oil, backhousia citriodora oil, passiflora incarnata seed oil, red palm (elaeis guineensis) oil, citrus medica vulgaris peel oil, artemisia absinthium extract*, geranium maculatum extract, lemograss (cymbopogon schoenanthus) oil, withania somnifera leaf extract*, ylang ylang (cananga odorata) oil, cinnamo-mum cassia bark oil, mentha piperita oil, myrtle (myrtus communis) oil*, lavandula angustifolia oil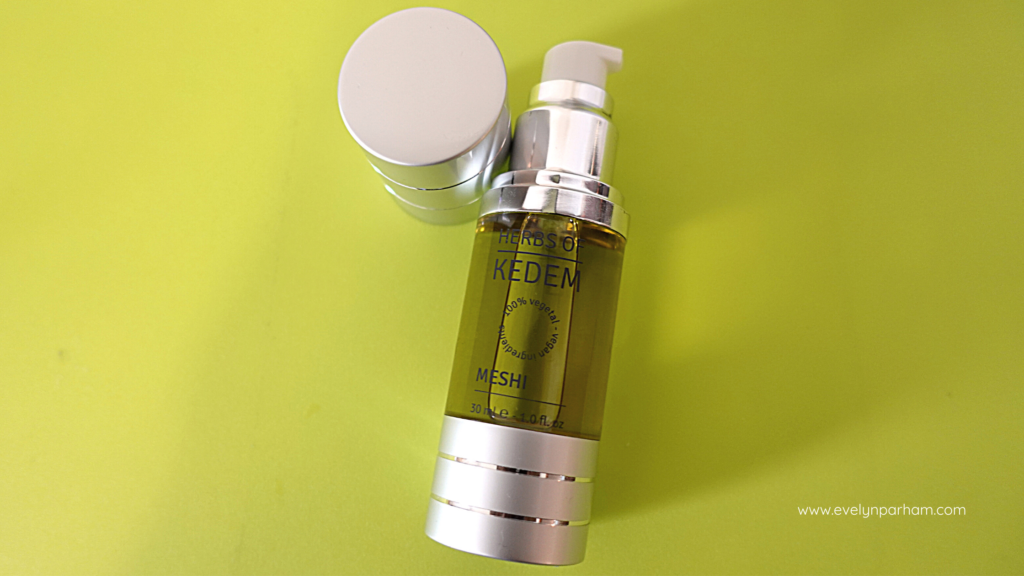 Agam (Eye and Lip Contour Serum) – Vegan oil-based serum for the eyes and lips. The texture is smooth and has a pleasant herbal fragrance. It moisturizes and enhances elasticity. In addition, it stimulates the skin and helps minimize wrinkles, puffiness, and hyperpigmentation.
Ingredients:
Rose hip seed oil, cucumber (cucumis sativus) oil, jojoba (buxus chinensis) oil, passiflora edulis seed oil, salvia sclarea*, red palm (elaeis guineensis) oil, coconut (cocos nucifera) oil, helichrysum italicum extract*, camellia sinensis, citrus aurantium amara (bitter orange) leaf/twig oil
Tsukim (Lifting & toning balm) – Lifting, hydrating and vein-toning properties. Helps minimize wrinkle formation and undereye bags. Natural sunscreen of 13, present in shea butter.
Ingredients:
shea butter (butyrospermum parkii), buxus chinensis, beeswax, artemisia absinthium extract*, helichrysum italicum extract*, lavandula angustifolia, hypericum perforatum extract*, geranium maculatum extract, cupressus sempervirens extract
Boto-V (Neck and Low-Neck Lifting Balm) – A concentrated balm that improves elasticity and firmness of the face, neck, and low-neck-line. It contains no preservatives or chemical stabilizers.
Ingredients:
butyrospermum parkii (shea) butter, elaeis guineensis (palm) oil, buxus chinensis (jojoba) oil, persea gratissima (avocado) oil, rosa moschata seed oil, carnauba wax, cupressus sempervirens (cypress) oil, camelia sinensis, verbascum thapsus*, pistacia lentiscus gum oil*, pelargonium graveolens oil*, lavandula angustifolia (lavender) oil, hypericum perforatum (st. john's wort) extract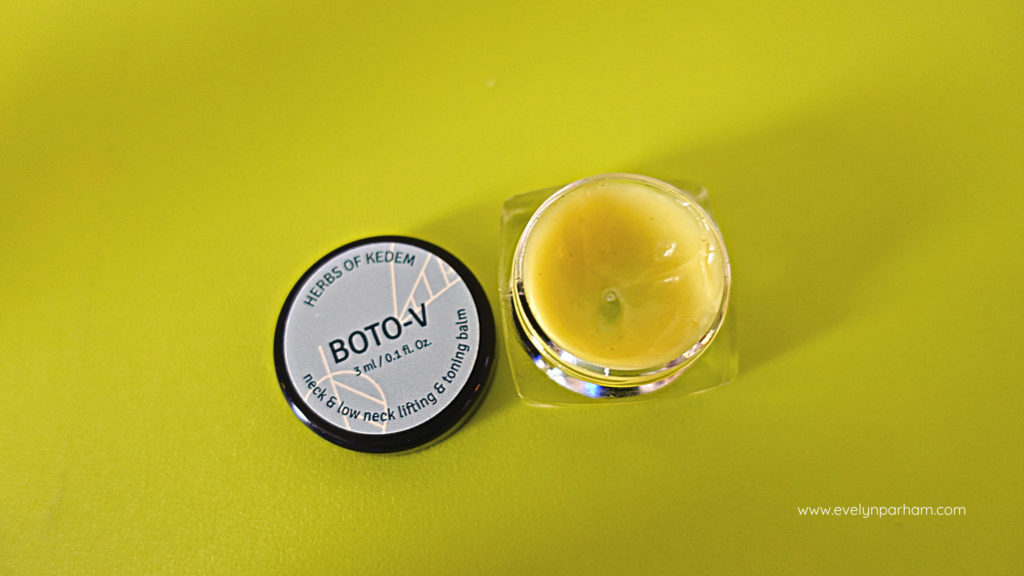 Testing Skin Care
I stopped using my eye creams, serums, and night creams for two and a half weeks to test Herbs of Kedem.
Packaging
The packing is simple and unique.
Fragrance
The fragrance of the products is herbal and pleasant—a fresh and clean scent.
Application
Application is easy. However, I had to be careful not to apply too much.
My Experience Using Herbs of Kedem
Meshi
Meshi is an oil-based serum that I apply nightly. The scent reminds me of lemongrass, fresh and clean. Unfortunately, I applied too much the first few times I used Meshi, which left me looking greasy. However, I do not have dry skin, so I quickly learned that I needed a small amount. The serum absorbs into my skin fast and leaves my skin feeling smooth without any stickiness. It's one of my favorites of the four products.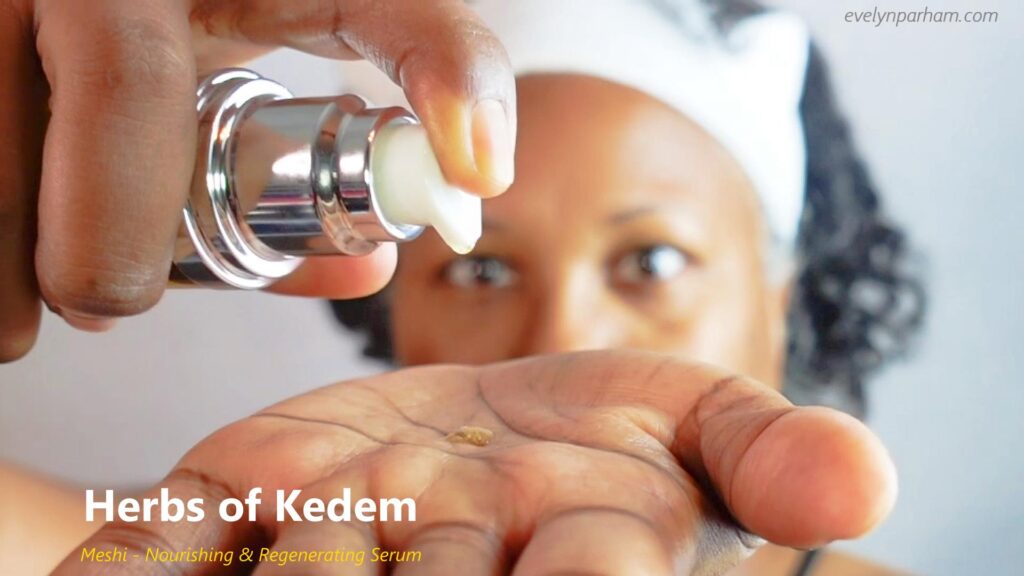 Agam
Agam is an oil-based serum for the eyes and lips, and the scent reminds me of a light lemongrass fragrance. I have never used an oil-based serum around my eyes, and I thought it would cause me to break out, but that never happened. However, I'm accustomed to using water-based eye creams, so I didn't know what to expect.
I used the Agam eye serum every morning and evening. I enjoyed using this product because it felt like it was stimulating my skin each time I applied it. It doesn't burn or irritate the eyes; it just feels like my eyes know something is happening.
The serum feels lovely when applied to the eye contour area. And as I gently tapped and smoothed the product into my skin, my eye contour area felt rejuvenated. Agam is another favorite from Herbs of Kedem.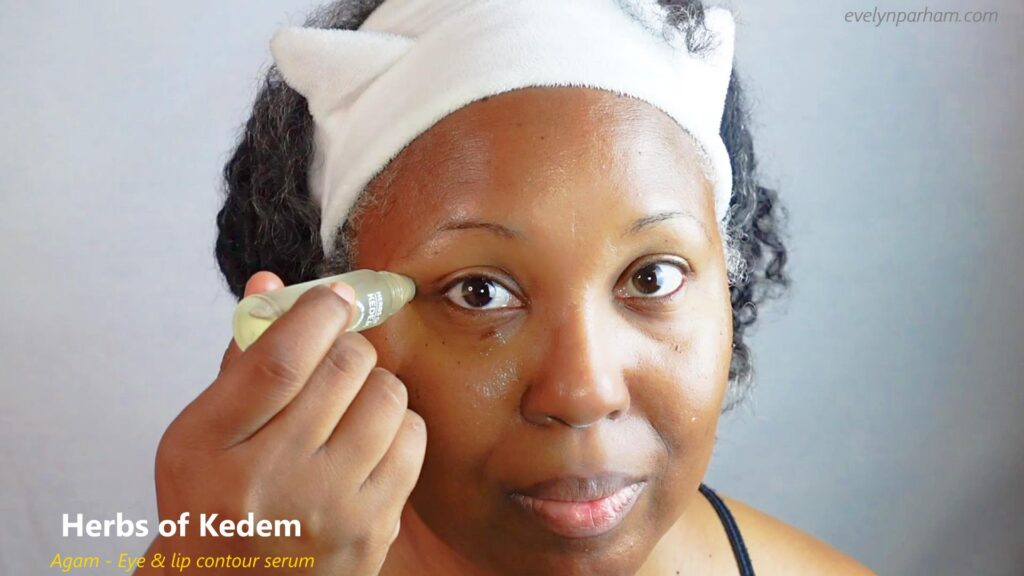 Tsukim
Tsukim is a balm formulated for lifting and firming the skin. It is a water-free balm with shea butter as the base. Unfortunately, too much of this product leaves my skin oily, so I have to be careful not to apply too much.
The texture of Tsukim is smooth and creamy. I thought it would be hard and take time to melt into the skin. Instead, the balm melts into the skin upon contact and spreads well onto the skin.
The fragrance is herbal, but the scent is more potent than Meshi and Agam. When I sniff this product, lavender comes to mind, but other essential oil ingredients help bring the fragrance together.
In addition to using Tsukim on my facial skin, I also applied a tiny amount under my eyes after applying the Agam eye serum to help seal in the serum and help with wrinkles and puffiness. Unfortunately, Tsukim is my least favorite of the products I tested.
Boto-V
Boto-V is a neck and low-neck lifting and toning balm. I applied the neck balm every night. The scent of this product is stronger than the serums, but it still has an herbal aroma and smells nice.
The neck balm spreads well on the neck. Although the fragrance is stronger than the other products, I enjoyed using Boto-V. However, I made sure to use a small amount because the product is oil-based, and using too much makes me oily.
I loved the way this balm made my neck feel. After application, my neck felt smooth and silky. I was amazed by that because I have used neck creams in the past, and my neck has never felt the way it does when I use Boto-V. So minus the scent, it works excellent on my neck.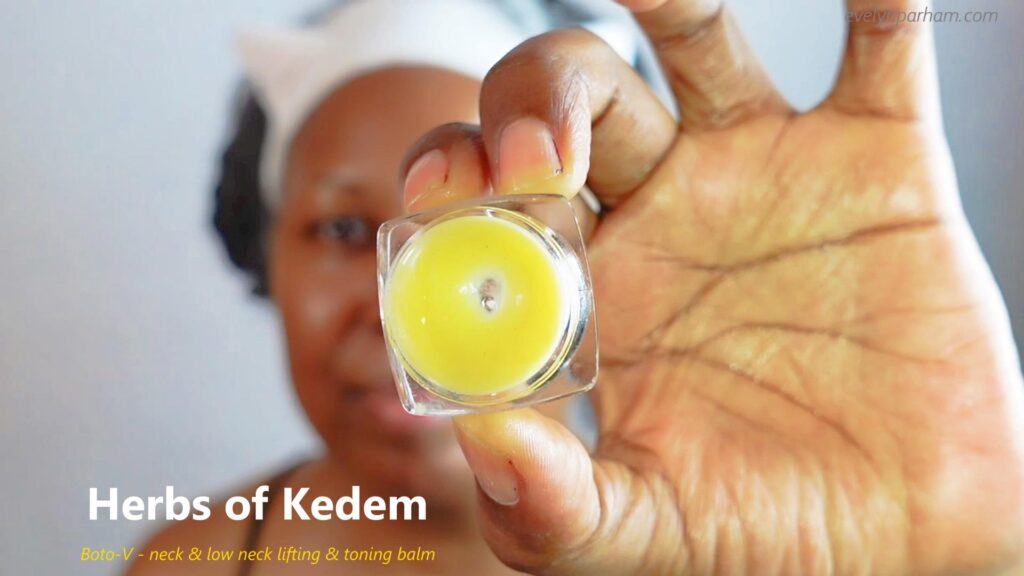 Final Thoughts
Herbs of Kedem is a nice change from my usual skincare products. I use water-based products in my skincare routine, so using oil-based products took some getting used to, but things worked out well once I figured out that I didn't need to use a lot.
I thought Herbs of Kedem would cause major breakouts and clog my pores, but neither occurred, which was amazing since the products are oil-based.
The products that I used are for dry, mature skin. I don't have dry skin; my skin is mostly normal. So I had to be careful with application because since I don't have dry skin, it's easy for my skin to get oily with products formulated for dry skin.
Overall, the Herbs of Kedem products that I used worked well on my skin. My favorites are the Meshi (serum) and Agam (eye serum). And I also like the Boto-V for the neck area.
If you're looking for clean skincare products free from synthetic ingredients, you should try Herbs of Kedem.