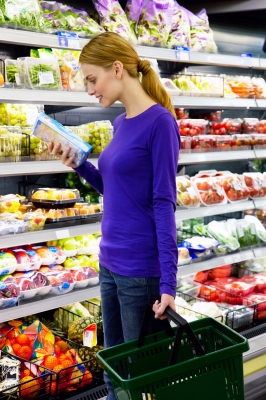 There are some people who will not eat fruits and vegetables if it is not from an organic source. I use to be one of those persons, until I had to really pinch my pennies.   I quickly learned that, everything does not have to be organic, especially when I do not have organic money.
These days, I buy what I can afford and clean it very well, say my grace and roll with it. I figure it's better for me to eat fruits and vegetables that are grown conventionally, than to not eat them at all.
I receive emails from people asking me about how they can afford to continue eating all organic produce with the economy like it is.
Everyone is not doing well financially and every time I go to the grocery store, I spend more money, while leaving a with only few bags. I understand how you feel, because I do not buy that many organic food products, unless they are on sale.
Does this mean, that I do not eat organic? No!  I buy organic when there is a sale and if there is not sale than I don't buy it.  I have ways of getting around this, while still eating my fruits and vegetables.
Here is what you can do, especially if you have limited funds and you want to continue eating your fruits and vegetables:
Buy items that are on sale, regardless if they are on the dirty dozen's list. I know this may go against what you believe, but which would you rather have? Fruits and vegetables at a good price or less money in your pockets?
Invest in fruit and vegetable cleansers. Most stores sell fruit and veggie washes that will help remove what's on the surface of the fruits and vegetables. You can also make your own fruit and veggie washes, by using lemon water or a vinegar mixture.
Peel your fruits and vegetables. Get into the habit of peeling your fruits and vegetables. It is true that there is goodness in the peelings of certain fruits and vegetables, but it is safer to remove the peeling, because pesticides and other nasty stuff lurk inside the peeling.
Buy local, it is cheaper. If you have a farm in your area or a fruit and vegetable stand in your area, buy from them. The fruits and vegetables you buy locally are probably not certified organic, but they are grown in the traditional way probably with less pesticides. Plus you won't find shiny cucumbers, zucchini or pole beans, because there are no coatings to make them look appealing to the eye. Do not neglect cleansing your fruits and vegetables, even though they are grown locally.

Buy from Farmers Markets. Most if not all Farmers Markets have produce that is cheaper than what your local grocery store has. Some even sell organic produce at reasonable prices. You'll be surprised by what you can find. But if can't afford organic, buy what you can afford.
Final Thoughts
I would love to buy all organic produce, but I know that I cannot afford organic. So the next best thing is to get what I can afford, even if the produce is not organic.
It took me some time to adjust, but I'm learning that if I want to stretch what little money I have, I have to do what I have to do now.
Just because you cannot afford to buy all organic produce, does not mean that you should skimp on eating your fruits and vegetables. It is better to eat your fruits and vegetables because they are good for you, than to not eat them at all.
Never take things to the extreme, always stay balanced. It's less stressful that way!
Free images from FreeDigitalPhotos.net