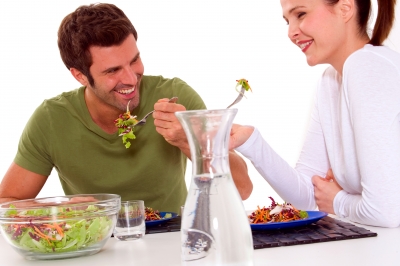 Welcome our guest blogger for today, Maria Rainier.

As a kid, the last thing I wanted for a snack was carrot sticks or peanut butter on celery, and my daily diet consisted mostly of white rice and chocolate.  I'm the last person you'd think would advocate adding more raw food into your diet.
Twenty-something years later, I repeatedly surprise my mother with how many vegetables I can eat without succumbing to a gag reflex.  This is because I've learned that we are what we eat.  How can we look good without feeling good?
The short answer is that we can't, not really.  Raw food is one of the healthiest things you can consume.  Vegetables, fruits, seeds, sprouts, legumes (beans), nuts, and seaweed contain the most enzymes and nutrients when not cooked over 116 degrees Fahrenheit, which means a healthier digestive tract, stronger immune system, brighter complexion, greater energy, and lower risk of cancer and heart disease than a predominantly processed-food-centric diet.
I won't be giving up my garlic and oil pasta or Camembert cheese anytime soon, but you don't have to go totally raw to get more nutritional benefits.  Simply incorporating any (or all!) of these 6 habits can help you feel and look healthier than ever before.
Go to your local farmers' market and buy whatever veggies and fruits that are in season.  This way, you support your local economy and the environment, and you'll see the colors change on your plate as the seasons turn.
Invest in a juicer (or dust off the old blender) so you can start off every day with a homemade fruit smoothie.  Add strawberries, bananas, blueberries—whatever you can find in season at your local farmers' market—for a tall glass of juice.  Add some flax seeds for fiber and healthy omega-3 fatty acids.
Better yet, start every meal raw with a vegetable or fruit salad.  Don't be afraid to toss a few fruits into your spinach salad—strawberries or oranges make great additions.  Add nuts like slivered almonds or—if you're not full-raw, like I'm not—add some bleu cheese crumbles.  Avocados also add great taste, texture, and nutrients to any salad.
Add more vegetables to sandwiches, wraps, and cold pasta salads.  This doesn't mean adding lettuce to your Subway sandwich—lettuce is mostly water!  Instead, think diced tomatoes and spinach, slivered carrots, slices of cucumbers, avocado paste, and the like.  Toss all the above into a soft tortilla wrap and drizzle with a vinaigrette or spicy peanut sauce.
Get to know your freezer.  Buy produce in bulk if they're on sale at the market, wash and cut them up, and freeze them (especially if they're organic) if you know you won't be able to eat them before they spoil.  You can make yourself an afternoon fruit slushie snack when the mood strikes you.
Keep yourself interested.  Raw food doesn't have to be as boring as having Caesar salad every day at lunch.  Look up recipes and blogs for raw foodies and interact in the community to harvest and spread new ideas.