On August 1, 2018, I decided to revisit the Colorado Diet. I learned about the diet from Tamara Grand of Fit Knit Chick.
Tamara recommended the Colorado Diet when I was working with her.
While working with Tamara, I tried the Colorado Diet, but I did not stick with it.
I Almost Gave Up
One day, I voiced my frustration about my weight to my husband.
I stopped doing the things I know I need to do to lose weight. I ate whatever I wanted to eat and did very little exercising.
When I looked in the mirror, I did not like what I saw. I had a plum face and a protruding belly.
I got stuck in a rut and stayed there until I was ready to make a change.
Inspiration and Motivation
I got my inspiration and motivation renewed after reading Keisha's book, Worth the Weight.
I got tired of being frustrated and feeling bad about myself. In comes the Colorado Diet.
So, What is the Colorado Diet?
"Slim – it's the state everyone wishes their body was in. And it turns out there's actually a state of slim: Colorado, the place that boasts the lowest obesity rate in America."
The Colorado Diet, explained, in the book, State of Slim: Fix Your Metabolism and Drop 20 Pounds in 8 Weeks on the Colorado Diet, written by James O. Hill, Ph.D., and Holly R. Wyatt, M.D.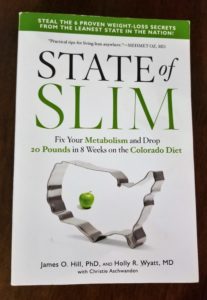 I started following the Colorado Diet on August 1st, and things are going well.
The diet is broken down into "three phases to help you reignite, rebuild, and reinforce your body's fat-burning engines, so you develop a Mile-High Metabolism – one that's keenly responsive to shifts in activity and diet."
I am seven days in, and I have lost a few pounds, my belly pouch is shrinking, and I also feel better about myself.
I will update you after completing each phase and give you more information about the Colorado Diet in the following weeks.
Staying Active
I am, but I am taking it easy.  HIIT (high-intensity interval training 4-times a week, 20-30 minutes) is the cardio I do, and on the other days, I may or may not do strength training.
So far, I am doing well with staying active.
Final Words
I am starting my weight loss journey over again, and I am not ashamed.
I will never pretend to be what I am not. If I have challenges, I will tell you.
I checked out and almost gave up because there were people, places and things that I did not want to let go.
Sidenote: I turned to food to cope, which made me lazy.
However, when I finally gave up everything that did not serve me, that is when I was to work on myself and to change.
You cannot change until you are ready for it!

Until next time,
Evelyn Parham