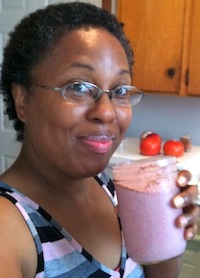 This is my update for the McDougall Diet, week three.  If you want to learn more about the McDougall diet, click here.
I usually share with you what I had for each day, but I will not do that in this post.  These  are the foods I ate during week three of following the McDougall diet:
Grains
Oats
Barley
Pasta (Jerusalem Artichoke Flour)
100% Wheat Bread
Vegetables
Potatoes
Sweet Potatoes
Broccoli
Mustard Greens
Spinach
Romaine Lettuce
Tomatoes (technically a fruit)
Cucumber
Carrots
Red Onion
Mushrooms
Artichoke
Olives (technically a fruit)
Beans/Peas
Split Pea and Barley Soup
Black Bean and Lime Soup
Kidney Beans
Garbanzo Beans
Fruit
Bananas
Strawberries
Grapes
Nectarines
Apples
Lemons
Milk
Soy Milk
Seeds
Chia Seeds
Hemp Seeds
Other
Nutritional Yeast
100% Wheat Bread
Real Salt
Agave Nectar
Organic Kelp with Cayenne Seasonings
Onion Powder
Garlic Powder
Cumin
Chipotle Chile Pepper
Black Pepper
Pasta Sauce
Tamari (low sodium)
Snacks
Synder's of Hanover Sourdough Nibblers/Snaps
Supplements
Vitamin B-12
My Fast Food Experience
I started the McDougall Diet on August 1, 2013 and since then I have not eaten out at any restaurants.  I cook my own food and enjoy it.
Dr. McDougall does not recommend eating out, especially while following the diet, but I ran errands one day and needed something to eat.  I stopped by a fast food joint, that I used to frequent.  I always order the veggie burrito.  The burrito has black beans, rice, corn, avocado, lettuce, and their secret sauce.
The first bite I took of the burrito tasted awful.  I could not believe that I used to eat this and think that it was the healthier choice on the menu.  There was a bad aftertaste that I had never noticed before, but I continued eating, because I was hungry.
I learned that after you give up fast food for a while and start eating whole foods that you prepare and cook yourself, that your taste buds change.  I do not have any desire to eat at that fast food joint any time soon.
Best Tasting Smoothie, Ever
I got tired of eating oatmeal and decided to make a breakfast smoothie. I made a smoothie that blew my taste buds away.  I had no idea the smoothie would be a success and I had to share it with you.  Below is the recipe for my quick breakfast smoothie:
Banana Strawberry Smoothie with an Oats and Cinnamon Twist
Makes one serving.
1 Frozen Banana
1/2 Cup Fresh Strawberries
1 Cup Organic Soy Milk (or any milk of your choice)
1/2 Cup Oats
1-3 Dashes of Ground Cinnamon (to taste)
Blend until creamy and enjoy.
*If you want to make more than one serving, double the recipe.
Final Words
Overall, I am still going strong following this diet.  I have started walking on my treadmill and doing a little strength training.
I really like the McDougall Diet, because it is not hard for me to follow.  It is very filling as well as economical.
Well, I guess that's it.
Until next time…