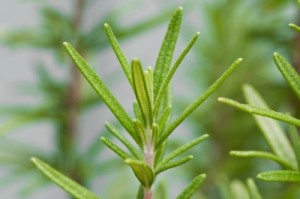 Rosemary is a popular culinary herb that you probably have in your kitchen. It is not only a wonderful herb for cooking, but it is also good for the body.
Hippocrates, the father of medicine, was right when he said; Let food be thy medicine, and medicine be thy food.
I tried growing rosemary, but I have never had success. The reason I have no success is because I did not know what rosemary likes and dislikes.
Rosemary is from the Mediterranean region. It prefers hot temperatures and dry soil conditions, but it also enjoys extra humidity.
This explains why I had no success growing rosemary. I grew rosemary in the summer, but I watered it too much.
Rosemary not only smells divine (a little sweet pine), but it also has wonderful healing qualities.
Medicinal Benefits
I love cooking with rosemary and using the essential oil of rosemary. I know rosemary is good for the hair and skin, but I had no idea about the medicinal benefits.
Rosemary is a traditional symbol of good health, fidelity and remembrance.
Below is a list of medicinal benefits of rosemary:
One of the best anti-oxidant herbs
Beneficial for the immune system and winter illnesses
It is often recommended for the digestive tract
It is often recommended for the circulatory system
It is good for brain health (increases oxygen supply, sharpening concentration and memory)
It is good for the respiratory system
It is good for the hair, nails and skin
Enhances circulation.
Have Your Own Pharmacy
Rosemary is used in home remedies like, infusions, tinctures, cider vinegar tinctures, syrups, compresses, crystallized elixirs, lozenges, medicinal foods, ointments, salves, balms, creams, foot soaks, bath herbs, infused oils, liniments and in honey.
Discussion: Do you use rosemary? What are some ways that you use rosemary?
Source of Information: Growing 101 Herbs That Heal: GardeningTechniques, Recipes, and Remedies by Tammi Hartung, Medicinal Herbalist
Disclaimer: Rosemary is an alternative and it should not replace getting care from a physician.
Image: FreeDigitalPhotos.net