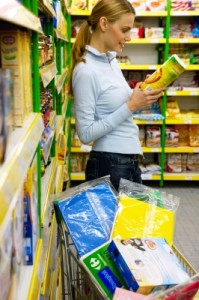 Today our guest blogger is Stefanie Gomez.
Your home is supposed to be your sanctuary. The place you live and breathe. The place you prepare your meals, relax, and rest. We can spend the entire day navigating our way through a world that is full of hazards and toxins that may harm our health, but when we get home our expectation is that we have arrived somewhere safe. Nothing in our living environment will be harming our health. At least that is what the majority of people would like to believe.
Surprisingly, your home can be full of chemicals and toxins that negatively impact indoor air quality and your overall health and well being, as well as that of the environment. We have a few tips and some advice to help you think differently about the products you bring into your home and to help you identify hidden health hazards in products before you buy them.
Are All Consumer Products Safe?
When news began to break of imported toys and other products containing lead and harmful toxins, the reaction was shock and disbelief. Since North America had prohibited the use of carcinogens in manufactured products decades ago, how was it possible that imported toys were allowed to be manufactured and sold with lead paint? The entire issue of standards of production for North America versus international manufacturing practices became questioned openly, as consumers struggled to understand how it could be legal to sell something that was harmful to their health.
The scandal of the lead paint took place in 2007 and pointed back to manufacturers in China who supplied trusted brands including Mattel. The Chinese Government later opted to sign an agreement to prohibit the use of lead paint for North American toys and other products, marking the beginning of a new age of consumer awareness. The incident opened eyes around the world and consumers and health officials began to consider the loop holes that exist for manufacturers. Economies of scale will always lead manufacturers to seek the most inexpensive method of production. Cost cutting by unscrupulous businesses could be detrimental to our health.
What They Don't Tell Us
Health Advocates pointed out that while most inspections of consumer goods are conducted on a finished product and before sale, there are very few regulations that monitor the long term use of any product. The information regarding poor air quality and other toxins within the home has been slow to be communicated to shoppers. Consumers have always had a somewhat blind faith in the quality of the products they purchase. We believe that our government agencies have laws and standards in place that will prevent the sale of any material that could be detrimental to our health.
You can understand why most manufacturers would be eager to suppress information that might reduce the sale of their products. If you knew something had the power to negatively impact your health, would you buy it? Probably not. So if present laws and standards do not do a good job of eliminating harmful products, the onus is on us to be informed and make the right choices when it comes to the products we purchase.
Making an Informed Choice
With some research and information you can start to reclaim your healthy home. Familiarize yourself with the different names for known carcinogens and read the labels on any product you are interested in purchasing. Pay special attention to products such as mattresses and furnishings. Take time to thoroughly investigate the materials that are used in their construction. While it may provide no harm as a new product, what tests have been conducted to measure the amount of VOC's (volatile organic compounds) or harmful vapors are emitted after extended use?
While flame retardant materials are an asset to safety,emissions from soft upholstered products are one of the largest contributors topoor indoor air quality. Mattresses are frequently treated with toxic chemicals to reduce flammability, however over time those chemicals are released and can create respiratory problems and other significant health conditions as they are absorbed into the body. PBDE (polybrominated diphenyl ethers) for instance, is one popular flame retardant that has been found to accumulate in body fat, blood, and breast milk.
Take charge of your choices and stay informed about the products you bring into your home. Create a healthy and nurturing environment by eliminating harmful carcinogens and other volatile organic compounds (VOCs). With cancer, Alzheimer's, and other serious conditions increasing in frequency around the world and directly linked to carcinogens, empower your family now to make changes to reduce the risk to both your health and the environment.
About Author:
Stefanie Gomez is associated with Essentia. She is Self proclaimed internet addict and shopaholic. She is Eco lover who write about healthy living options. Stefanie also contributes on Essentia blog as well as many other platforms.
Image courtesy of Ambro / FreeDigitalPhotos.net