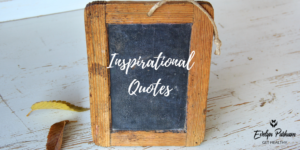 How many of you love quotes? What better time than now to share inspirational quotes to help you bring in 2019 with a bang of optimism
When this post goes live, it will be January 2, but we're only two days into the new year besides these quotes are suitable for all year long.
I didn't make any resolutions for 2019, I chose one word that covers a multitude of things, and my word is focus.
Inspirational Quotes to Bring in 2019
1.  "For last year's words belong to last year's language. And next year's words await another voice." ~ T.S. Eliot
2.  "Let us welcome the new year full of things that never were." ~ Rainer Maria Rilke

3.  "Write it on your heart that every day is the best day of the year." ~ Ralph Waldo Emerson
4.  "Every moment is a fresh beginning." ~ T.S. Eliot
5.  "Forgiveness gives another chance to make a new beginning. ~ Desmond Tutu
6.  "Celebrate what you want to see more of." ~ Tom Peters
7.  "Champions keep playing until they get it right." ~ Billie Jean King
8.  "Character is the ability to carry out a good resolution long after the excitement of the moment has past." ~ Cavett Robert
9.  "Never underestimate the power you have to take your life in a new direction." ~ Germany Kent"
10.  "Although no one can go back and make a brand-new start, anyone can start from now and make a brand new ending." ~ Carl Bard
11.  "Realize that if a door closed, it's because what was behind it wasn't meant for you." ~ Mandy Hale

"Do more than exist – live
Do more than hear – listen
Do more than grow – bloom
Do more than spend – invest
Do more than think – create
Do more than decide – discern
Do more than consider – commit
Do more than dream – do
Do more than see – perceive
Do more than read – apply
Do more than receive – reciprocate
Do more than choose – focus
Do more than wish – believe
Do more than encourage – inspire
Do more than reach – stretch." ~ John Mason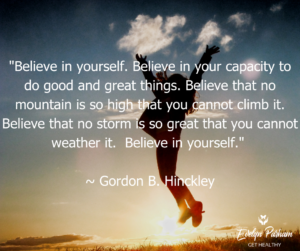 12.  "Believe in yourself. Believe in your capacity to do good and great things. Believe that no mountain is so high that you cannot climb it. Believe that no storm is so great that you cannot weather it.  Believe in yourself." ~ Gordon B. Hinckley
Bonus Quote: "Accept yourself, love yourself, and keep moving forward.  If you want to fly, you have to give up what weighs you down. " ~ Roy T. Bennett
Final Words
Are you ready to get it done and make things happen in 2019? If you don't have a plan, grab a pen and paper and write down what you to accomplish.
Then write down how you will achieve everything. It's never late to plan your way to success. Today is the day to make your dream become a reality.
---
One thing I want to accomplish this year and is publishing my recipe book.
What is one thing you want to accomplish this year? Do share.
Have a blessed year and stay prayed up and positive!
If you like the content, subscribe to my newsletter. Get exclusive emails, tips, news, blog post updates, and more when you join