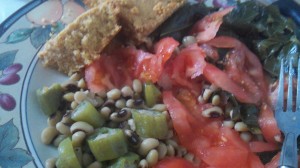 Most southerners enjoy eating cornbread with meals.  If you are a southerner who is vegan, you can still have cornbread minus the eggs and buttermilk.
I enjoy trying different vegan recipes and this is the second cornbread recipe that I have tried so far.  The first cornbread recipe that I ever tried was a total flop. But this recipe from By Any Greens Necessary
is the best.  It is quick, easy and uses very few ingredients.
Classic Vegan Cornbread
1 cup corn meal (organic if possible)
1 cup whole wheat pastry flour (if you can't do wheat, use a pastry flour of your choice)
1 tablespoon of baking soda
1/4 teaspoon salt
1/2 cup olive oil
2 tablespoons raw agave nectar
1 cup water
Preheat oven to 350 degrees
In a bowl, mix together the cornmeal, flour, baking powder and salt.  In a separate bowl, mix together the olive oil, agave nectar and water.  Add the dry ingredients tot he wet ones and stir until well combined.  Pour into an oiled 9-inch round or square baking pan.  Bake for half an hour or until the top center is firm.
Note:  You can add herbs of your choice (Italian), dried minced onion depending on your taste buds.