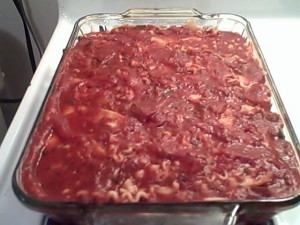 I don't know anyone who doesn't enjoy some good lasagna.  My husband enjoyed the first one I made and he requested it again.  Side note: He's not a vegan or vegetarian.
This awesome lasagna is the main star for our Thanksgiving dinner.  If you are looking for a good vegan lasagna, then you should definitely try this vegan lasagna.  It is so flavorful and fun to make.
I got this recipe from an awesome book entitled By Any Greens Necessary (Affiliate link) written by Tracey McQuirter.  You can learn more about this book by reading my review.
This lasagna has a wonderful taste and is super fun to make.  I say it's fun because you can add whatever you like to make the flavors pop.
I had an issue with the brown rice lasagna noodles.  They broke on me, but I still used them.  The next time, I prepare this, I will definitely use another type of lasagna noodle or another brand.
Here is the recipe and you can also see me at work:
Luscious Vegan Lasagna
4 Tablespoons of extra virgin olive oil (evoo)
1 medium onion, chopped
5 or 6 cloves garlic, peeled, and chopped
1 pound button mushrooms, chopped
1 pound extra-firm tofu
1 cup kalamata olives, pitted and chopped
3 tablespoons Bragg Liquid Aminos
2 tablespoons nutritional yeast
1/2 teaspoons dried oregano
Cayenne pepper, to taste
One 1-pound package brown race lasagna noodles
One 16-ounce jar of your favorite vegan tomato-based pasta
1 bunch fresh spinach, chopped
1 cup fresh basil leaves, torn
Preheat oven to 350 degrees F
Heat 1 tablespoon evoo in a skillet.  Add onion, garlic, mushrooms and saute until soft.  Drain.
Squeeze the excess water out of the tofu by pressing it in a towel.  In a large bowl, crumble the tofu with a fork and stir in the sautéed vegetables, olives, liquid aminos, nutritional yeast, oregano, cayenne, and 2 tablespoons of the remaining evoo.  Adjust seasonings to make this as spicy as you can.  Set aside to marinate.
In the meantime, cook the lasagna noodles according to the package instructions.
Spread the remaining 1 tablespoon of evoo over the bottom of a large casserole dish, then cover the oil with a layer of tomato sauce.  Place a layer of lasagna noodles on top of the sauce.  Spread half the tofu mixture over the noodles.  Next, add a layer of spinach to cover the tofu mixture, then add half the basil leaves on top of the spinach.  Add another layer of noodles, then layer with the sauce, then the remaining tofu mixture, then spinach, then basil leaves.  Cover with a final layer of noodles and sauce.  Bake for 45 minutes.
Makes 8 to 10 servings.
Note: I added 1/2 of a red bell pepper (chopped) to the sautéed vegetables and some lightly blanched broccoli with the spinach and basil.
Happy Thanksgiving everyone!