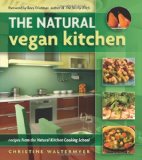 Are you bored eating the same vegan meals?  It is always good to have a few vegan recipe books in your library to keep you from getting bored.
Rick Diamond, from the Book Publishing Company, sent me a copy of The Natural Vegan Kitchen for review.  Guess what, I have an extra one, that is up for grabs.
The Natural Vegan Kitchen: Recipes from the Natural Kitchen Cooking School
is a very straight forward recipe book.  I love how, the author, Christine Waltermeyer, tells the reader about her health experience and what led her down the road to veganism.  She has a way of drawing you in with her story and I can definitely relate to what she shares.
The Natural Vegan Kitchen
Price: $19.95
Pages: 191
What you get from this recipe book
Christine shares recipes that you can easily adjust to gluten-free.  You will find the recipe book, sectioned by the type of food and this is very helpful when trying to find a recipe for beans or casseroles.
You will love the creative titles for each chapter.  I know I do!  It makes me want to try everything in each section.
Break Down of the Recipe Book
Chapter 1:  The Way of the Natural Vegan Kitchen
Chapter 2:  What's for Breakfast?
Chapter 3:  Appetizers
Chapter 4:  Nourishing Soups and Stews
Chapter 5:  Ballads for Salads
Chapter 6:  Spectacular Salad Dressings and Sauces
Chapter 7:  Radiant Grains
Chapter 8:  Savory Beans
Chapter 9:  The Main Dish and Casserole City
Chapter 10:  Delectable Vegetables
Chapter 11:  Have Your Cake and Eat it Too!
Walk away tips
Gluten-free recipes
It is okay to eat greens for breakfast
You can make fancy, fun-to-eat appetizers
Prepare soups from scratch
Learn the right ingredients to add to get the flavors you want (bitterness, pungency, richness, saltiness, sourness, and sweetness)
Learn tips for cooking dried beans
Learn different ways to prepare vegetables
The author includes the servings for each recipe as well as amount of calories, protein, carbohydrates, fiber, and sodium.
Recipe – Mom's Potato Salad
Makes 6 Servings
I love potato salad and had to share this recipe with you.
Salad
5 medium red-skinned potatoes
Pinch sea salt
2/3 cup minced celery
1/3 cup minced onion
1/3 cup minced fresh parsley
Dressing
1 1/2 cup vegan mayonnaise
2 tablespoons apple cider vinegar
1 teaspoon yellow mustard
sea salt
Ground black pepper
Directions
Put potatoes in a medium-large ace pan and cover with cold water.  Add the salt and bring to a boil over medium-high heat.  Decrease the heat to medium-low, partially cover, and cook for 20 minus.  Do not overcook.  Drain the potatoes and transfer them to a plate to cool.  when they are cool enough to handle, peel and dice them and put them in a large bowl.
Add the celery, onion, and parsley to the cooled potatoes.
To make the dressing, combine the mayonnaise, vinegar, and mustard in a small bowl, whisk until well blended.  Pour over the potatoes and gently mix until evilly distributes.  Season with salt and pepper to taste and gently mix again.  Cover and refrigerate for at least 1 hour before serving.
Per Serving:  calories:  386, protein:  3 g, fat:  27, carbohydrates:  35g, fiber: 3g, sodium:  228 mg
Giveaway
One lucky person will win a copy of The Natural Vegan Kitchen.  All you have to do is leave a comment below. You have until, Thursday, June 9, 2011 to qualify for this giveaway.  Best wishes!