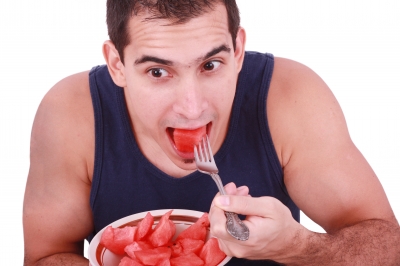 It is so hot here in Georgia. It has been as much as 106 degrees in my town. It is bad when you walk out the door and it feels like you are walking into an oven and you can hardly breathe.
I do not handle heat very well, because I am always warm. When it is hot I get irritable and I am very mean. Well, not very mean, but being too hot puts me in a bad mood.
During the summer there are many foods you can eat that will keep you cool. Those foods tend to have a high water content.
I often wonder why my brother and I enjoyed eating fresh tomatoes from grandmother's garden and now I know why.
Those tomatoes were cooling us off while we played.  Those were the best tomatoes and the happiest times of my life.
Notice that the foods on this list are higher in water content and are often grown during warmer months.  These foods are also in season during the warmer months too.
 Cooling Summer Foods
Cucumbers and summer squash (yellow and green)
Watermelon and other melons
Tomatoes
Peaches

Mangoes

Berries

Green leafy vegetables

Coconut Water

Corn

Apricots
There are many more yummy foods that keep you cool during the hot summer months.  Eat a variety so that you do not get bored.
 Have a Happy 4th of July and please keep cool!   🙂
Discussion: What foods do you like eating that keep you cool in the summer?
Image: FreeDigitalPhotos.net