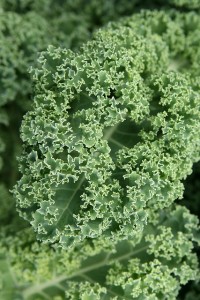 I discovered kale when I started eating a plant-based diet.  Until then, I thought of kale as a decorative non-edible green.  Can you believe that?
I find that when I tell people about kale they tell me they have never heard of it.  That is because most people when they hear greens, they think of collards and turnips.
I am a southern girl and I use to believe there were only three types of greens;  collards, turnips and cabbages.  As it turns out there are many green leafy vegetables out here waiting for us to try.
I am so glad that I began eating a plant-based diet.  Because if I hadn't, I would never know about all the many green leafy vegetables that exist.
Kale is by far one of my favorite greens and I enjoy all varieties.  I can eat kale cooked or raw.  It is not too bitter and not too strong, the taste is just right.  If you have never eaten kale, I urge you to give it a try.
The next time you are in the grocery store or a Farmers Market, grab yourself a bunch or two of kale.  Once you eat kale you will forget all about the collards, turnips, and the cabbages;  trust this southern girl on this one.
What is kale?
Kale is a dark green leafy vegetable that most people don't think they can eat.  Curly kale is often found on salad bars and buffets as decoration.  But it is better eaten than wasted on making things look pretty.
Kale belongs to the cruciferous family which include:  broccoli, cauliflower, cabbage, turnips, kohlrabi, Brussels sprouts, collards, muster greens and turnip greens.
Kale along with the other cruciferous vegetables contain phytochemicals that make them very powerful.  These phytochemicals are indoles and isothiocyanates.
Indoles have antiestrogenic activity that help reduce the risk of related cancers.
Isothiocynates (sulforaphane) have anticancer activity.
4 Reasons Why You Should Eat Kale
1.  Kale has the greatest antioxidant activity when rated against 19 other vegetables.
2.  Kale is rich in lutein, which is a phytochemical that helps protect the eyes from macular degeneration.
3.  Kale is one of the best sources of flavonols.
4.  Kale is a great source of calcium.
There are other dark green leafy vegetables in the cruciferous family that offer the same benefits.  Eat a variety of green leafy vegetables and you will not go wrong.
When you eat a variety of green leafy vegetables, I guarantee you that you will find yourself making kale your number one go to green.  Well, at least I hope so!
You already know that my favorite green is kale.  What is your favorite?
Source of Information:  Becoming Vegan: The Complete Guide to Adopting a Healthy Plant-Based Diet
Recommended Reading: Greens Glorious Greens: More than 140 Ways to Prepare All Those Great-Tasting, Super-Healthy, Beautiful Leafy Greens
Image credit:  Quinn Dombrowski