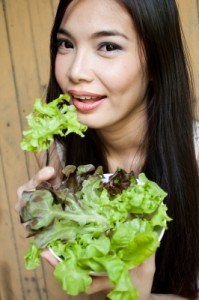 I do not know too many people who enjoy eating vegetables, let alone green leafy vegetables. Everyone probably had a grandmother who told you to eat your greens and they probably had a pot of greens on the stove each time you visited.
I will never forget my first introduction to turnip greens. My grandmother would eat turnip greens and cornbread with her fingers. Yes, I know that sounds country, but that's how country folk get down. It's not eating if you cannot get your fingers in the food.
My grandmother had cooked a pot of turnip greens and if I wanted to eat, I had to eat the food she prepared. I had to force those turnip greens down, because they were bitter and I just could not stand the taste.
At the time the turnip greens were the worst tasting food I had ever eaten, but when I look back on it, the turnip greens weren't that bad.
I was not used to the taste and vowed to myself that I would never like greens, especially turnip greens.  I just could not understand why people ate greens and I knew I would never eat them again.
It is 2012 and guess what, I enjoy eating turnip greens. I welcome the bitter taste and everything that any green leafy vegetable has to offer.
Green leafy vegetables provide excellent health benefits and you can eat them in many ways.  I have no excuse for not eating green leafy vegetables everyday.
Greens Taste Bad
Creativity is key when it comes to green leafy vegetables. Most people cannot stand the taste of any green leafy vegetable, but there are many ways that you can get around this.
There are many ways you can eat greens, all while enjoying the unique taste of each type of green leafy vegetable that you eat. Here are some ways you can eat greens:
Lightly steamed/wilted/sautéed/braised
Boiled
In Soups
On Sandwiches
Green Juices
Served under a pâté, or protein of your choice
Remember, herbs, spices and different seasonings can make your greens quite tasty.
There are many ways you can eat green leafy vegetables, remember creativity is key.
What Is a Green Leafy Vegetable?
A green leafy vegetable is the part of the leaves of a plant that one eats. This includes herbs, greens, vegetable greens, or salad greens. Here are examples of green leafy vegetables:
Basil
Cilantro
Parsley
Asian greens (Bok choy, Chinese cabbage, etc)
Broccoli
Cabbage
Cauliflower
Celery
Collard greens
Rutabaga tops
Turnip greens
Spinach
Arugula
Romaine Lettuce
Beet tops
Carrot tops
Swiss Chard
There are many more, I've only listed a few
Reasons Why You Should Eat Green Leafy Vegetables
You cannot stand the taste of vegetables, let alone green leafy vegetables. And you're wondering why on Earth should I eat this stuff? Well, green leafy vegetables have much to offer you, and your body will thank you for giving it the good stuff. Eat green leafy vegetables because:
1. They are high in vitamins and minerals. – Vitamins A, E, C, K, iron, magnesium, manganese, calcium, folic acid, carotenoids, Omega 3 fatty acid.  *some are high in sulfur
2. They have antioxidants which help prevent cell damage.
3. They are high in fiber, which help sweep out your digestive system and keep things flowing regular.
4. They help lower the risk cancer.
5. They help lower the risk of heart disease
6. They help you lose weight, very low in calories.
7. They are low in carbohydrates and have a low glycemic level. Perfect food for those who are diabetic.
Green Leafy Vegetables are Your Best Friend
Make eating green leafy vegetables a part of your diet. Eat them daily. If you find it hard to eat green leafy vegetables, why not whip up a green smoothie or a green juice. No more excuses! Let's do this!