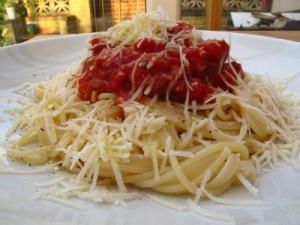 This is a guest post written by Paul Darlow.
Yes, you did read that correctly.
The person writing it seems to be implying that not only could eating a vegetarian diet spell disaster to your health, but also that there is a general pre-conception out there that this indeed would be the case.
It's strange, isn't it, what some people think of vegetarian food?
What makes the above comment all the more worrying is that it was written and published by the Nutrition Team at Tescos Diets – one of the newest yet fastest growing (and most highly rated) diet providers in the UK.
I stumbled across the comment whilst undertaking a review of diet providers for my website – as part of which I decided to try each of the recipes that were suggested as appropriate for dieters.
Whilst I am only just beginning the process of reviewing the hundreds of diet recipes out there, I already have a couple of observations. Firstly, most of the recipes suggested by diet companies are actually surprisingly good. The majority of the recipes that I have tested so far have been tasty and filling. This does not, however, apply to the recipes suggested for vegetarians.
The recipes offered for vegetarians seem to be either:
tasteless and bland ("brown rice risotto" was a real low point, basically brown rice simmered in water flavoured with marmite, with a few token peas thrown in at the end and ½ a chopped red pepper to give "a zesty flavour to the dish"), or
totally unimaginative (cheese features very heavily, strangely so for diet recipes), or
taken from the Indian repertoire – think dahl, lentil curry, vegetable curry, dahl soup, curried dahl soup etc etc etc
Now, I have nothing against a good curry, especially those true to real Indian home cooking, but it shows a distinct lack of interest and knowledge of vegetarian cooking when that's the only acceptable recipe that you can write.
The only exception I have found so far is Slim-Fast's recipe for Pasta Arrabiata. Granted, the recipe is a bit of a classic and so they'd be hard-pressed to ruin it, but I'm always happy to see simple, classic recipes on the menu. The following makes 4 servings:
Firstly, boil the kettle. Once the kettle has boiled put 400g of spaghetti on to cook.
Then, peel and finely chop 2 cloves of garlic. Also chop 1 fresh chilli. Add both to a frying pan along with 2 tablespoons of olive oil and fry for a minute or two, being careful not the burn the garlic.
Now, add 1 tin of chopped tomatoes to the frying pan along with 2 tablespoons of tomato purée. Cook for around 5 minutes.
Meanwhile, grate 100g of Parmesan cheese.
Once the tomato sauce has had 5 minutes of cooking turn off the heat, add a few basil leaves, and leave to stand whilst the spaghetti finishes cooking.
Serve the spaghetti topped with some sauce and grated Parmesan. (Editor's Note:  Use vegan cheese if you are vegan)
Hopefully in the next few weeks I will find some slightly more original tasty vegetarian recipes suggested by the diet companies. I must admit, though, that I'm not optimistic!