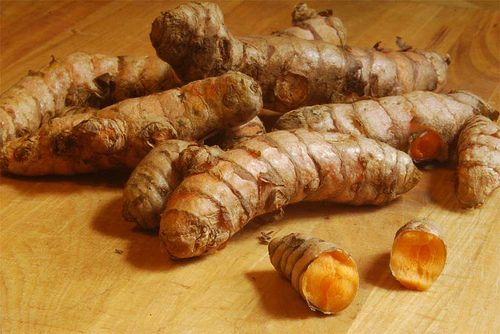 My first experience using turmeric was in scrambled tofu. I noticed that turmeric gave the scramble a cool yellow color similar to what you would see in scrambled eggs.
Whenever I cook tofu scramble, I always use turmeric. I love the flavor it adds to the scramble as well as the color.
 Note: Turmeric gives mustard its yellow color.
I now use turmeric when I cook other dishes, like lentils, beans, macaroni salad, quinoa, and brown rice.
If you have not tried turmeric, you should, because it has some great benefits.
What is Turmeric?
Turmeric is an ancient spice that has a yellow-orange color. This spice is used in foods, medicine, and textiles.
 Note: It is one of the ingredients in curry spice.
Turmeric comes from the Curcuma longa plant and has a brown skin. The flesh of turmeric is a deep orange. Turmeric has a bitter, peppery taste and the smell is a cross between orange and ginger. The ginger smell is not surprising because turmeric is a member of the ginger family.
History
Turmeric has been harvested for more than 5,000 years and is native to Indonesia and southern India. The leading commercial producers of turmeric include, India, Indonesia, China, the Philippines, Taiwan, Haiti and Jamaica.
Health Benefits of Turmeric
You can buy turmeric (curcumin) in its original form (market), powder, or capsule.  What ever way you choose to use turmeric, do know that turmeric is an added benefit for your health.
Note: I discovered during my research for this post that turmeric is also good for the skin. Consider making a homemade masque for your skin care routine.
Here are some benefits that turmeric provides:
1. Anti-inflammatory
2. Effective treatment for inflammatory bowel syndrome
3. Helps relieve rheumatoid arthritis
4. May help those who suffer from cystic fibrosis
5. Aids in cancer prevention
6. Inhibits the growth of cancer cells
7. Helps reduce the risk of childhood leukemia
8. Helps improve liver function
9. Lower's cholesterol
10. May help protect against Alzheimer's (Source).
Ways to Use Turmeric in Food
Add turmeric to tofu scramble, macaroni salad, potato salad and other foods for a bolder yellow.
Add turmeric to warm milk with a sweetener (optional) of your choice.
Add to an soups and bean (lentils) dishes.
Add turmeric to any of your favorite fruits and vegetables or any dish for something different.
Discussion: Have you used turmeric? If you have used turmeric, please share with us in the comment section below, how you use it.
If you cannot view the video above, you can view it here.