Are you a 40-plus year old woman? Most women like keeping their ages a secret and that's okay. As long as you are happy, healthy and whole; it is all good.
I turned 43 years old in July, yes I know I'm getting up there. You are only as old as you feel and today, I feel great.
I was an active teenager who was somewhat athletic. I played tennis in high school and was a mascot my senior year. As I got older, I became less and less active, which resulted in weight gain.  I thought since I am petite, I could get away with not exercising. Boy was I wrong!
Today, I am happy to say that I am more active and I have a regular fitness program. Investing in a personal trainer is the best investment I have made in a long time.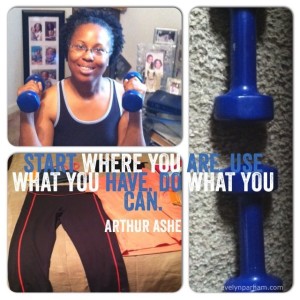 My online personal trainer is Tamara Grand and I encourage you to visit her website. I enjoy the program that Tamara has developed and I will write a review of the program in a future post.
If you are one who is not self-motivated and need that one-on-one contact, then an online personal trainer is not for you. However, if you are one who is motivated to exercise, but you need guidance, an online personal trainer is perfect for you.
Started a Regular Fitness Program in July
I started working with Tamara on July 1, 2014 and I haven't stopped working. My family and I went on vacation on July 4th and I packed the dumbbells, jump-rope and yoga mat, because I was determined to follow the routine.
Determination will take you places you never thought you would go and make you do things you never thought you could do.
Why Have a Regular Fitness Program
If you are a 40 plus year old woman, you probably have noticed that weight loss can sometimes be challenging.
It takes more time and effort for you to lose the weight which can result in frustration.  You stop trying to lose the weight and accept your fate, but you don't have to do that.
One of the main reasons I think it is hard to lose weight is because our metabolism slows down and we experience hormonal changes.
Regular fitness training as well as being mindful of the foods you eat, can help you have weight loss success.
I have worked out six (6) days a week since July 1, 2014 and here is why you need a regular fitness program.
You need a Regular Fitness Program Because:
it boosts your confidence and self-esteem
it improves your muscle tone
it is good for the bones
it helps burn fat
it helps with weight loss
it helps with hormonal issues
it motivates you
it makes you feel good
it helps you feel beautiful
it helps you be a stronger person
it helps you be a happier person
it helps you sleep better
and it helps you focus on self-care.
Self-care is one of the most important reasons why you need a regular fitness program. You are the only one who can take care of you. You are ultimately responsible for you. Love yourself enough to invest in you. Do it today!
Discussion
If you have a regular fitness program, please share how this has helped you. If you don' t have a regular fitness program, let us know when you will start.