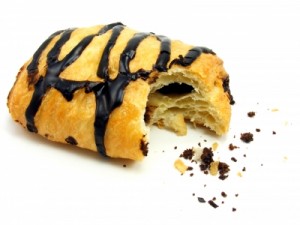 I have a blogging friend, Mr. Mitch over at I'm Just Sharing, who decided to eat vegetarian for one week. I am happy that he is doing this because Mitch has told me many times, "I don't like vegetables and that's just the way it is."
I say to Mitch and to anyone who does not like eating vegetables, "The best medicine is food and these foods will not tickle our taste buds, they tickle our over all health, which is better than anything you could ever imagine."
One day Mitch shared a link with me on Twitter. The link was to the documentary Forks Over Knives. I received a few more tweets from Mitch about eating vegetarian and that he would try eating vegetarian for a week. Mitch wants to see if he feels better after a vegetarian diet.
Well, my friend, I don't know if you will feel better after just one week, but I hope you do and that it will motivate you to eat more plant-based foods. I do know that if you make little changes over time, those little changes add up to bigger changes with big results and I know you will feel better doing that.
I am happy that Mitch decided to eat healthier than he usually does. He has shared on his blog that he is diabetic and I hope that he does feel better and that he continues eating more plant-based foods.
Today, I will give you some reasons you should consider giving up eating junk. But before I share with you those reasons, here's something I want you to always keep in mind.
Healthy in, healthy out: Junk in, junk out. This means that if you put healthy food in your body, you will feel better, inside and it radiates to the outside. But if you put junk food in your body, you will feel like junk inside and that too radiates to the outside.
Okay, here are some reasons why you should consider giving up the junk:
1. It is devitalized. Devitalized means that there is nothing vital or living in the food that is beneficial for your body. Junk food doesn't have much in it to keep your body running like a well oiled engine. Over time eating junk food will cause you to sputter and fizzle out. You will be wondering why you don't have energy and why you don't feel good. Eat more whole and fresh foods that have little processing, the foods that give you vitality or life.
2. It has a lot of stuff. I say a lot of stuff, because much of what is in the ingredient list is stuff. I can hardly pronounce the stuff and I studied organic chemistry and biochemistry in college. Make a pact with yourself to read the ingredient labels on all the food you buy and if you see stuff that you cannot pronounce, then you should  not eat it.
3. It is high in sugar. On your next trip to the market, read the ingredient labels. When you read those labels you will see and notice that almost everything has sugar in it. I have to warn you that you probably will not see sugar listed. You will probably see words that you do not know that are disguised as sugar (there's the stuff again). Learn what those words are.
4. It can make you sick. Eating a little junk food every now and then will probably not make you sick. It's when you eat junk food over a long period and that is mostly all you ea that makes you sick. There are many people who eat like this and look pretty good, but as they get older it begins telling on them.
5. It can make you look older than you really are. I'm sure some of you have probably heard about Annette Larkin, the 70-year-old woman who looks like she is 40. Well, she looks younger because of what she eats. I have met a few other people who have blown me away, because they do not look their age. It is all because of what they choose to feed their bodies. Talk about aging gracefully, these people are doing it. Seeing people like this helps me keep on keeping on, even when when I stumble.
6. It is cheaper. Think of it like this, the less junk you eat the better you feel. Yes, the junk may be cheaper, but in the long run it can end up costing you, your most valuable asset, your health.
There are so many reasons why you should consider cutting out the junk food, I only touched the surface. The next time you are in the market, read the label and ask yourself, "Do I need to put this in my body and will it help my body?" If you answer no, then don't waste your money.
Got anything to share?  Speak on it below in the comment section!