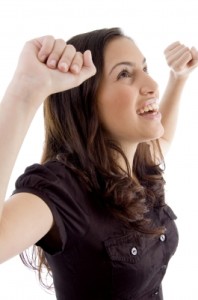 Just because someone says that a certain food is good for you doesn't mean that you have to buy it and start eating it.  Are you true to yourself or do you follow the crowd?
The articles that I publish on Mondays are meant to inspire and motivate you.  These are posts that get you thinking and reflecting on things going on within you and in your life.
A Short Story
When I was a teenager, I wanted to fit in.  Everything the other classmates were doing, I wanted to do it too.  If everyone was wearing a certain kind of shoe or dressed a certain way, I wanted to do the same.
There came a time in my high school years, when I did not care if I dressed like the other classmates.  I was in my senior year when I finally realized that it was okay for me to be me. People like you more when you are your genuine self.  I liked being myself and standing out from the rest.
It is the differences that we have that make the world what it is.  If everyone looked the same and did the same things, then it would be a very boring world.
As I ventured off to college, I did my own thing and I did not get caught up in being like others.  Even though I joined a sorority, I did not let that define who I was and how I related to my other friends who where not a member of a sorority or a fraternity.
Fast forward to today.  There are many things that I do that other people do not do.  Sometimes people will boldly share what they think I should and should not do.
I am a good listener, but I always do what I know is best for me and not what the other person thinks I should do.
If I had followed other people's recommendations and suggestions, I would not be where I am today.
A Message To You
If you are on a path that you know is right for you, do not allow anyone to come in and get you off the path that you are traveling.
You must decide within yourself that you will not allow anyone or anything to have control over the decisions that you make for yourself.
If you want to eat a plant-based diet, go for it.  There will be naysayers and people who will think that you have lost your mind, but continue traveling on the path and get with those people who are supportive of what you are doing.
If you are on a weight loss journey, go for it.  There will be those who will not be supportive in your efforts of losing weight, but again, get with those who are supportive of you and believe in what you are doing.
Never allow other people to have control over the choices you make for yourself.  When you start allowing others to have control, then you are no longer living for yourself, but for others.
Always be true to yourself, never follow the crowd.  Be a trailblazer!
Image courtesy of imagerymajestic / FreeDigitalPhotos.net