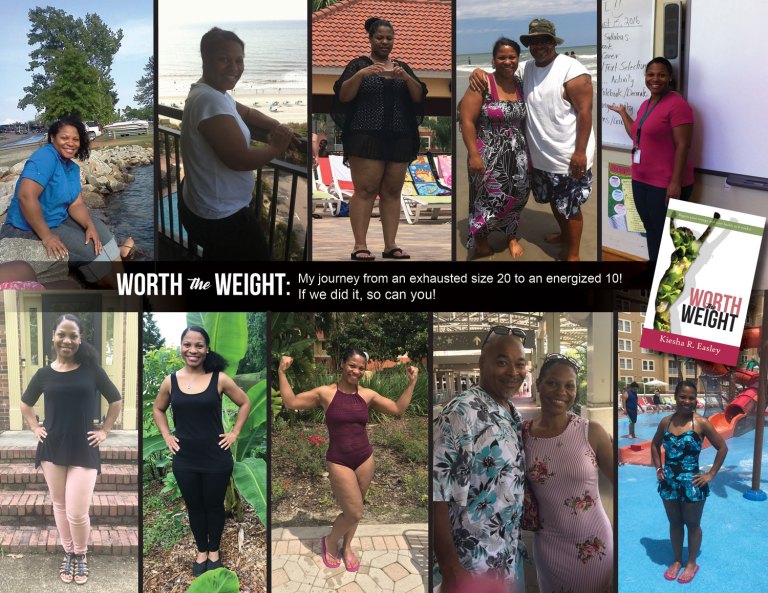 Do you need to boost your energy, lose weight and improve your health? Kiesha R. Easley shares her journey of how she lost 70 pounds.
If you:
need some inspiration
want to lose weight
some direction
then you should read Worth the Weight, by Kiesha R. Easley.
Who Is Kiesha R. Easley?
Kiesha is one of the first bloggers I connected with when I started blogging, and we never lost contact. We have always been supportive of each other.
She contacted me and asked me if I would review her new book, and without hesitation, I said, yes!
I love it when I know the person whose book I am reading and reviewing. It makes it even more special.
Although it took me some time to write this review, Worth the Weight is definitely worth the read.
Introducing Worth the Weight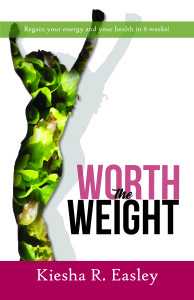 Author: Kiesha R. Easley
Pages: 88
Worth the Weight is one woman's journey of how she went from 230 pounds to 153.  Kiesha lost over 70 pounds and shares what she did.
Kiesha writing style is conversational. I felt like she was chatting with me over a cup of tea while sharing her remarkable transformation story.
I am proud of Kiesha's accomplishments of regaining her energy and her health.
Whatever we set our minds to do we can do it, but we must be ready.  After many unsuccessful tries at losing weight, Kiesha made up in her mind that she was prepared to do whatever she had to do to feel better, and she did it.
About Worth the Weight
Kiesha followed Dr. Gundry's recommendations in the Plant Paradox, for which I have written a book review.
Kiesha shared her journey which started in July of 2017 (230 pounds), and by April 2018 she weighed in at 153 pounds.
Her determination to get rid of chronic fatigue, pain, and the weight is empowering, and she shares how she did it.
The first thing that Kiesha did was to stop eating the foods that were negatively impacting her health.
Next, she added the foods that Dr. Gundry recommended and stayed the course.
Although Kiesha doesn't mention exercising until she talks about dealing with loose skin, I know she did some exercising.
I see noticeable biceps in the above photo. Kiesha is an avid gardener also, who gets lots of exercise from being in her garden.
Kiesha gives some great tips on how to avoid having loose skin by doing simple exercises to help tone and build muscle.
She also shares recipes that she adapted from the Plant Paradox book, to get you started.
Final Thoughts
Worth the Weight is a book about one woman who got tired of being unhealthy and did something about it.
I appreciate that Kiesha shared the spiritual and mental areas that we sometimes overlook when we are making lifestyle changes.
If you need motivation and inspiration to get started on your journey to becoming a healthier person, then I recommend you check out Worth the Weight.
If Kiesha can do it, so can you!
Note: Kiesha is offering a FREE Download of her book, Worth the Weight, to my mailing list. The password to get her book is in my newsletter today.
If you want a copy of Kiesha's book and you are not on my mailing list but are subscribed to my feed, please send me an email, or contact me through my contact form to let me know. – Thank you!
About Kiesha Easley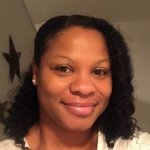 Kiesha R. Easley is a High School English Teacher, who got fed up with not having enough energy and mental strength to make it through the day. She knew that something had to give if she was going to continue working in such a fast-paced environment and keep up with her students.
She found a solution that transformed her life. In 2017, she started her journey, and nearly a year later, she is 70 pounds lighter, looks 20 years younger and has more energy than ever before. She has regained her energy and health and wanted to spread the message of healing.
Kiesha is a native of Toledo, Ohio, who now lives in Columbia where she and her husband raise hens, honeybees and a host of fruit trees in their backyard. Every year they plant a garden and grow many healthy leafy greens, herbs, and sweet potatoes. They grow and raise everything using only natural methods – no chemicals, pesticides or herbicides.
Kiesha was inspired to write Worth the Weight in response to all of the questions she received from people who watched her go from a size 20 to a size 10 in about 7 months. If she could lose the weight after years of trial and error, anyone could. The book shares the strategies she applied and offers a step by step approach to improved health, increased energy and sustained weight loss.
Kiesha's Website: http://www.kieshaeasley.com