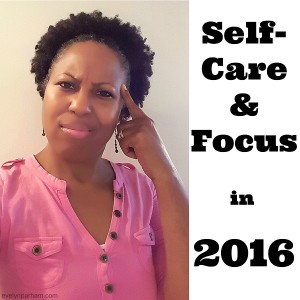 Did you set any goals for yourself for 2016?  I did not really set any goals, I just know that there are things I need to work on to continue improving myself.  I have dubbed 2016 as the year for self-care and focus.
The two main things that keep popping up for me is self-care and focus.  Today, I'll share with you how I plan to focus and do self-care strategies that will help me be and do better in 2016.
Self-Care for a Nourished Body and Life
These are things that I just take for granted, but this year, I will do my best to adhere to what I know will help me (mind, body and spirit).
I will:
spend time communing with God
get to bed by 10 PM
shut down the technology at 7-ish PM
unplug digitally on the weekends
have quiet time
pamper myself
be a mindful eater
buy high-quality nutrient-dense foods
steer clear from negativity when it's in my power to do so
move my body daily (fitness).
Focus is a Must for Success
If I am not focused, then I sure won't be very successful in the self-care department.
Whatever the task, I will complete.  The days of multitasking are over because multitasking actually results in getting less done.
I will:
not multitask
work on a project, complete it and move on to the next one
be consistent
let creativity have her perfect work
not let anything or anyone be a distraction
never stop learning
be a better steward over everything in my life.
Final Words
That's about it.  I feel uncomfortable writing a post that has lots of I(s), but sometimes, transparency is a good thing.  My goal is to inspire you in hopes of helping you become a healthier you; mind, body, and spirit.
Please feel free to share your plans for 2016 in the comment section.
Subscribe to my Email List to receive blog post updates each time I publish new content.