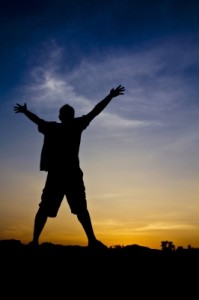 I remember when my ungratefulness was brought to the forefront.  I played a character in a Christmas play that was an ungrateful teenager.
I did not know this character was a true depiction of me, until the day we performed the play on Christmas Day.  My godmother is the person who wrote the play and had a plan to teach me a lesson.
The last scene of the play had the children sitting around the Christmas tree opening gifts.  We had practiced this scene many times, but for some reason, my godmother had me opening a box that happened to be her gift to me.
Even though I played an ungrateful teen in the play, I was very ungrateful in real life.  I did not realize how ungrateful I was until I opened the box.
I did not know there was anything in the box, because I had rehearsed the scene many times, but on Christmas Day, I opened a box.  I could not pretend that the box was empty, because it was a real gift for me.
As I opened the box and saw what was really in the box, my eyes swelled with tears.  My godmother had given me a Smith Corna typewriter.  I felt so unworthy, because I had a bad attitude.
I learned a valuable lesson that day.  I learned that no matter what I had or my family dynamics, I had to always have a spirit of gratefulness.
I hoped you enjoyed the above story.  Today, I share with you inspirational quotes of gratitude.  You should always be grateful for everything.  Enjoy!
Gratitude Quotes
"Hem your blessings with thankfulness so they don't unravel." – Unknown
"As we express our gratitude, we must never forget that the highest appreciation is not to utter words, but to live by them." – John F. Kennedy
"Gratitude makes sense of our past, brings peace for today, and creates a vision for tomorrow." – Melody Beattie
"Enjoy the little things, for one day you may look back and realize they were the big things." – Robert Brault
"Gratitude unlocks the fullness of life.  It turns what we have into enough and more.  It turns denial into acceptance, chaos to order, confusion to clarity.  It can turn a meal into a feast, a house into a home, a stranger into a friend.  Gratitude makes sense of our past, brings peace for today, and creates a vision for tomorrow." – Innerspace
"We often take for granted the very things that most deserve our gratitude." – Cynthia Ozick
"Let's be grateful for those who give us happiness;  they are then charming gardeners who make our soul bloom." – Marcel Proust
"The smile on my face, doesn't mean my life is perfect.  It means I appreciate what I have and what God blessed me with." – Unknown
"What if you gave someone a gift, and they neglected to thank you for it – would you be likely to give them another?  In order to attract more of the blessings that life has to offer you, you must truly appreciate what you already have." – Ralph Martson
"Everything is a miracle, not just the beautiful and lovely things." – Anonymous
"A thankful heart is not the greatest virtue." – Cicero
"It isn't what you have in your pocket that makes you thankful, but what you have in your heart." – Author, Unknown
"As we express our gratitude, we must never forget that the highest appreciation is not to utter words, but to live by them." – John Fitzgerald
"The greatest test of faith is when you don't get what you want but still you are able to say, 'Thank you Lord.' – Unknown
"People who live the most fulfilling lives are the ones who are always rejoicing at what they have." – Richard Carlson
"Feeling gratitude and not expressing it is like wrapping a present and not giving it." – William Arthur Ward
"I would maintain that thanks are the highest form of thought, and that gratitude is happiness doubled by wonder." – Gilbert K. Chesterton
"He is a wise man who does not grieve for things which he has not, but rejoices for those which he has." – Epicteus
"If you want to turn your life around, try thankfulness.  It will change your life mightily." – Gerald Good
"If a fellow isn't thankful for what he's go, he isn't likely to be thankful for what he's going to get." – Frank A. Clark
"It is impossible to feel grateful and depressed in the same moment." – Naomi Williams
"The hardest arithmetic to master is that which enables us to count our blessings." – Eric Hoffer
"Things turn out best for people who make the best of the way things turn out." – John Wooden
"If you can't be content with what you have received, be thankful for what you have escaped." – Unknown
"Stop thinking about the past, and don't worry too much about what's going to happen in the future.  Your presence is a present, so live for today, and appreciate everyone and everything you have.  Stop thinking about what you don't have, what you wish you had, who walked out of your life, and whatever else that falls in that category.  Think about what you have, who you have in your life, and how fortunate you are." – Junethea Crystal Centeno
Image courtesy of markuao / FreeDigitalPhotos.net