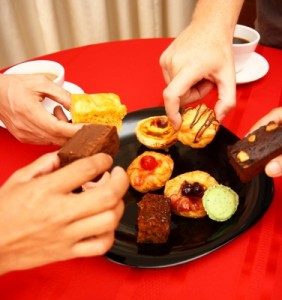 The holiday season is upon us. Thanksgiving is within a few weeks and Christmas follows. It is a tradition to celebrate the holiday season with food.
Enjoying good food, family and fun is one thing that everyone has in common during the holiday season.
When I worked outside my home, I use to love this time of the year. I loved it because there would be lots of different foods in the office and people would send the office gifts of snacks and holiday treats.
The gifts of little snacks and holiday treats would start rolling a few weeks before Thanksgiving and those holiday treats kept rolling in throughout December. I was a happy camper.
I packed on the most pounds around this time of the year, because there was food all around me. Whenever ever I walked into the room where the food and holiday treats were, I would always grab my share of treats.
The holiday season is one of my favorite times of the year. Because it brings many people together and food is the always the common denominator.
I no longer work outside my home. I sometimes miss being in office, because hey, let's face it I enjoyed the snacks and those holiday treats.  But if I worked at my previous job right now, I would do a few things differently in the eating department.
If you eat too much food during the holiday season, don't worry just keep these tips in mind and you will do fine:
1. Eat like you've eaten all year round, the holidays are no exception. Overeating during the holiday season is common, but you do not overeat; eat sensibly.
2. Control your portion sizes. Be mindful of how much food you consume. Eating more food than usual is easy to do, during the holiday season.
3. Select the healthier foods. Yes, there are a few healthy dishes. Dinners usually consist of very tasty side vegetables. Stock up on the veggies and eat very little of those foods you know will cause you to pack on the pounds.
4. Eat only when you are hungry. Just because the tempting snacks and treats are in the lounge doesn't mean that each time you enter the lounge you go for the snacks.
5. Put self-control into action. Tell yourself that you will not eat because the food is there. Soon you will notice that you are not eating just to be eating.
6. Pass on the seconds. Desserts are everywhere and when you taste that sweet potato pie or buttery pound cake, you must have seconds, thirds, etc.  You have almost eaten the entire plate of desserts, yeah you. One serving of dessert is best.
7. Bring a few healthy dishes. There's nothing better than having your own food at the family and office gatherings. Make sure you eat some of those dishes you bring to the gathering. By doing so, you won't feel too guilty when you eat that sweet potato pie.
 Discussion: How do you avoid packing on the pounds during the holiday season?