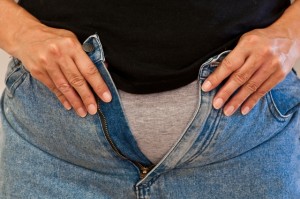 Are you overweight or obese? Chances are you are probably overweight and some of you may even be obese. I was overweight and headed down the road of being obese. You don't have to stay fat. The choice is up to you.
The Meaning of Overweight and Obese
Overweight is when one has more body fat than optimally healthy.
Obese is a medical condition in which excess body fat has accumulated to the extent that it may have an adverse effect on healthy, leading to reduced life expectancy and/or increased health problems.
Last night, I watched a show on A&E TV and the name of the show is Heavy. The people in this episode (Ricky Wayne and Jessica) really touched me.  I found myself in tears and cheering them on all at the same time.
What is Heavy?
Heavy is a documentary that airs on Mondays at 10/9 Central on A&E. Twenty-two people facing extreme life-threatening health consequences as a result of their obesity experience real life change. Heavy airs eleven one-hour series and follows participants per episode documenting their incredible transformation during a six month treatment program.
Here's a little background on Ricky Wayne and Jessica.
Ricky Wayne
Ricky Wayne is 35 years old, 5'11" and his start weight was 555 lbs. Ricky says, "I choose life, not death. It is an every-day struggle, but I have been given the weapon to fight this addiction. I'm heavy, but not for long.'  He started off wanting to give up and even told the personal trainer to leave him alone. But Ricky snapped out of it and stuck with the grueling exercise regimen.
Jessica
Jessica is 28 years old, 5'2″ and her start weight was 288.4 lbs. Jessica says, "This is the hardest and most rewarding thing I have ever been a part of in my life. I owed it to myself to make a lifestyle change." Jessica stuck with it, at times, she was crying during almost every workout, but after the 30 days, she was a new person, inside and out.
I can't tell you the exact amount of weight that Ricky Wayne and Jessica lost, but they lost a lot of weight. Ricky Wayne looks good and you can tell that he lost weight. Not only that, but he has a great attitude. Jessica decided that she wanted to join the Police Academy. They are both very active and continue their journey of getting their health and life under control.
Lessons Learned from Ricky Wayne and Jessica
1. You are never too fat to exercise. I know some people who have told me, "I can't do that." Well, stop saying you can't and get your body moving.  Start with walking and start out slow. Pretty soon you will be walking farther and doing more than you ever could imagine. But you must start.
The journey of a thousand miles, starts with one step. – Lao-tzu
2. You must want it. Our high school cheer, "You have to want it, to win it and we want it bad." Anything you want, you must work hard and put in the blood, sweat and tears to see the results. Ricky and Jessica couldn't do certain exercises, they started out slow, but in the end they wanted it so bad, that they stuck with it. Today, they are winners making exercising and healthy eating a part of their everyday life. They are winners!
3. You are the only one who can do this. No one can lose the weight for you. People can give you the tools for success, but ultimately it is up to you. When the going gets tough, you must keep pushing and hang in there no matter what. This is something you must do for yourself.
4. Make healthier food choices. Ricky and Jessica learned how to make wiser and healthier food choices. You don't have to eat a vegetarian diet to lose weight. Knowing the foods to avoid, reading labels and controlling portion sizes really do matter.
5. Get professional counseling. Some people turn to food for comfort. Get in touch with your emotions and know why you turn to food in times of pain and desperation. My heart ached for Ricky because he blamed himself for his mother's death and he was never able to shake that, until he got the counseling that he needed. The counseling helped him deal with the pain and understand why he had an addiction to food.
6. No one likes being fat. If those that are fat, come across as loving and enjoying the skin they're in, you know they are faking the funk to some degree. Being overweight brings with it health risks as well as emotional issues.  Ricky and Jessica were not very happy, yet they went on with their daily lives and had come accept themselves the way they were. But when Ricky and Jessica started the program their determination kicked in and they did what they had to do.
7. Push no matter how much pain it takes. Never give up. When your legs, arms, and stomach are sore from working your muscles, don't quit, keep going. You will see the results and the results alone will keep you going.
There were many lessons that I took away from Ricky/Jessica's struggle with being overweight. The biggest lesson that I took home was that no matter what, you must keep pushing and never give up.
I loved Ricky's attitude. He pushed no matter how bad he felt. Why? Because he knew in the end he would get the prize. Ricky says in the show that he feels better. He also looks amazing!
Jessica started out a little whiney, because she was crying all the time. But when push came to shove, she did what she had to do. She now has an air of confidence and says she feels sexy.
I was so moved by this episode that I went to Facebook and join the Fan Page as well as watched the Live Streaming video after the show aired. You can view the full episode of Ricky and Jessica here.
Final Words
You are only as limited as you choose to be. It is up to you! So, what will you do?  Will you sink or will you swim?
Related articles