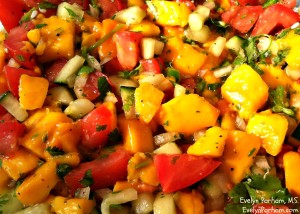 The mango is a juicy, delicious fruit that you can eat any way you like.  The mango is my favorite fruit and there is nothing better than a juicy mango on a hot summer day.
The mango has the flavors of orange, pineapple, coconut and a little hint of apple rolled into a beautiful fruit.  The mango is not only a tasty fruit, but it is also one of the healthiest fruits you can eat.
I was inspired by a fellow You Tuber, Lee Gaines to make a mango dish.  Check out Lee Gaines's Quick Refreshing Raw Vegan Snack for the Summer.  He makes you laugh, but he also shares helpful information about the ingredients he uses in his recipe.
I came up with a delicious mango salsa and today I share it with you.  Below are the key ingredients and a few health benefits of the ingredients:
Health Benefits of Ingredients
Ataulfo (Honey) Mango
Aids in digestion
Helps fight cancer (vitamin C)
Good for eye health (vitamin A)
Beneficial for anemia
Helps improve memory
Tomato
Helps reduce heart disease
Anti-inflammatory properties
Helps fight cancer
Helps lower blood pressure
Benefits bone and eye health
Cucumber
Good kidney cleanser
Helps prevent bloating due to water retention
Good for hair, nails and skin (silica)
Helps fight cancer
Helps control blood pressure
Cilantro
 Helps reduce blood cholesterol levels
Helps improve digestion
Helps lower blood pressure
Improves cardiovascular health
Aids in detoxification
Garlic
 Helps lower blood pressure
Anti-inflammatory
Anti-bacterial
Anti-viral
Helps prevent cancer
Onion
Excellent source of anti-oxidants and vitamin C
Good for cardiovascular system
Helps prevent cancer
Anti-bacterial
Aids in digestion
Lime
Helps improve digestion
Aids in weight loss
Rich in vitamin C and potassium
Has phytonutrients
Anti-inflammatory
Spicy Mango Salsa Recipe
(Makes about 5-6 servings)
3 Ataulfo (Honey) Mangoes (chopped)
1 tomato (chopped)
1/2 cucumber (chopped)
1/4 – 1/2  Vidalia onion (chopped)
1 garlic clove (minced)
1 Jalapeno (chopped fine) – optional
1 handful of cilantro (roughly chopped)
2 tbsp lime juice
1/4 tsp ground cumin
1/4 tsp ground coriander
1/4 tsp Himalayan pink salt
1/4 tsp black pepper
Combine all ingredients in a large bowl until all ingredients are incorporated well.  Serve with chips or other vegetables, on a bed of greens, on a Romaine lettuce leaf, or as a topping on a burger or a soup.  Serve avocado on the side or as a topping.  The ways you can eat this salsa are endless.  Be creative and have fun.
Enjoy!