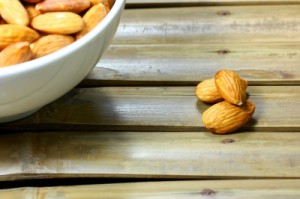 Have you checked the price of almond butter lately? The price is more than some are willing to pay.
Why pay ten to twenty dollars for an eight ounce jar of almond butter, when you can make your own?
You can buy almonds in bulk for a reasonable price and make your own almond butter for much less than it costs to buy in the store.
If you have a food processor, you can make your own almond butter. Making your own nut and seed butters is better, because you know how the butter is processed and you know what is in your butter.
How to Use Almond Butter
Use almond butter the way you use peanut butter. You can do the following with your almond butter:
add to your smoothies
eat with fruits or vegetables (banana, apples, celery, carrots, etc.)
eat it on a sandwich
spread on toast
add to soups
make a sauce.
You can use almonds in many ways. Besides soaking and dehydrating your almonds and using them for pates, crunchy, savory snacks, or adding to salads; you can make almond butter too.
How to Make Almond Butter
Equipment
Food Processor
Plastic Spatula
Storage Container
Ingredients
1-2 cups of Almonds (raw (unsoaked) or soaked and dehydrated)
1/2 – 1 tablespoon of a Sweetener of your choice (optional)
1/8 – 1/4 teaspoon of Pink Himalayan Salt
Directions
Processing almonds in a food processor takes time and the almonds go through different stages, before becoming almond butter
Pour almonds into the food processor.
Process for about 15 minutes, making sure to stop food processor periodically to scrap products from the sides of container.
Process until smooth.  Add the Himalayan pink salt and sweetener before transferring and pulse.
Transfer almond butter to a container.
Store in the refrigerator.
Almond butter keeps for two weeks or more.
Final Words
If you enjoy eating almond butter, but cannot bear the thought of spending the money, make your own almond butter.
Making your own almond butter is a good way to save money. It is also a fun way of getting your family's help in the kitchen.
Image courtesy of Lobster20 / FreeDigitalPhotos.net