The temperature has been very hot in Georgia. The temperatures have been in the 90's and the 100 degree mark is coming; it's only a matter of time.
A coconut water fruit Popsicle is a healthy treat and is a good way to stay cool and hydrated on those hot summer days.
My daughter enjoyed helping make these Popsicle. I had never done anything like this before, but she was a good helper.
One of the things I made sure to do was to use one of her favorite fruits (strawberries) and colorful Popsicle molds.
Why Coconut Water?
Coconut water:
is low in calories
is cholesterol free
is fat free (the brand I used)
has less sugar than most sports drinks, sodas and fruit juices
is high in potassium
is very hydrating
helps keep the body cool
Let's Make Some Popsicles
You can use coconut water only, but how fun would that be? I learned how to make these popsicles from Ms. Carolyn Akens. It is one of the recipes that Carolyn included in the Summer detox program.
You will need:
coconut water
fruit of your choice
Popsicle molds
and a good freezer.
I used blueberries, strawberries and kiwi for the fruit.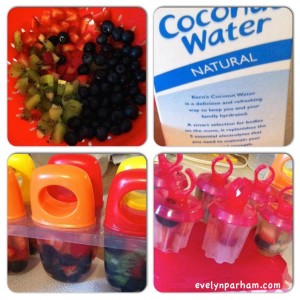 Directions:
Wash your fruit.
Cut up your fruit in bite size pieces
Add fruit to the Popsicle molds.
Pour coconut water in molds. Leave a little space for the popsicle stick to fit and so that coconut water does not overflow.
Place Popsicle molds in the freezer and freeze until solid.
Remove Popsicle mold from freezer and enjoy!
Be creative and have fun!