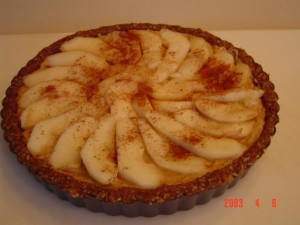 Dessert anyone?
Today, from Carolyn's recipe corner is the Walnut Pear Torte.  This is no ordinary dessert, because it is not cooked and has ingredients that are healthier for you.
Let's get to cooking or should I say, "un-cooking."
Walnut Pear Torte
Adapted from recipe by Renee Loux
Ingredients
Walnut Crust
2 cups walnut
4 soft pitted dates
2 Tablespoons of maple syrup
1 Tablespoon cinnamon
1 teaspoon nutmeg
Pinch Celtic sea salt
Pears
4 firm pears
Cream
1 1/2 cups of cashews
1 cup pitted dates
1/4 cup lemon juice
1 Tablespoon vanilla extract
1 Tablespoon coconut butter
Garnish
2 teaspoons cinnamon
1 Tablespoon lemon zest
Directions for preparing the Walnut Crust.  In a food processor, chop walnuts into a fine meal.  Add dates, maple syrup, cinnamon, nutmeg, and sea salt.  Chop until well mixed.  Press mixture into bottom of torte pan.
Directions for preparing the Cream.  Soak cashews in 2 cups of water for 30 minutes.  Drain and rinse.  Soak dates in 1 cup of water for 5-10 minutes  to soften.  Drain the soak water and set aside.  In a blender or food processor, blend cashews, dates, lemon juice, vanilla, and coconut butter until smooth.  Add date soak water, 2 Tablespoons at a time, only as necessary to blend.  The cream should be smooth and thick.  Spread the cream evenly over the crust.
Directions for preparing the Pears.  Peal the pears and cut in half.  Cut out the seeds.  Cut the pears into slices and fan out decoratively over the cream.  Garnish with a sprinkling of cinnamon and lemon zest.  Allow to set for at least 1-2  hours in the refrigerator before serving.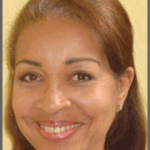 Carolyn Akens, Health-Enhancing Coach, Chef, and Raw Food Educator, helps women and families reclaim their health;  by Eating Whole Foods Loaded with Nutrients so They Will Live Strong and Live Long! Carolyn also trains and coaches Raw Chefs and Raw Instructors, teaches raw classes and workshops, and corporate wellness workshops. Visit www.CarolynAkens.com for your FR*EE gifts…How to Become a Skinny Mother or Grandmother, Raw Recipes, and Healing Foods!