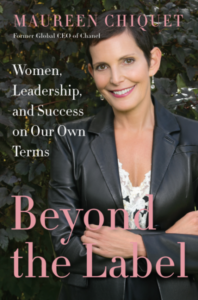 Beyond the Label is a book written by Maureen Chiquet, former Global CEO of Chanel. Maureen worked to achieve leadership positions by standing out and being authentic, and she took what she learned from her bosses and mentors to help in her evolution. What intrigues me about Maureen is that she is an introvert, but yet she was able to have success on her own terms.
Women who are in business and want to achieve leadership and success, should read Beyond the Label by Ms. Maureen Chiquet.
Note: TLC Book Tours provided me with a free copy of Beyond the Label for review.
Introduction to Beyond the Label
Beyond the Label consists of twelve chapters.
One – Breathing Deeply
Two – With Fresh Eyes
Three – Yielding to Chance
Four – Road Training
Five – Finding Your Groove
Six – A fine Line
Seven – Making Your Mark
Eight – Taking Charge
Nine – Having It All
Ten – Soul Calling
Eleven – Embracing Paradox
Twelve – Cutting the Corset
Maureen Chiquet's writing style is conversational, yet descriptive and you get a visual sense that you are right there, with her in every life experience that she shares.
My Thoughts About Beyond the Label
First of all, this book and the previous book review I did are not the typical books I would review on my site, however, since I am a business owner and some of you who follow my blog are business owners, I believe this book is worth sharing with you.
Women, no matter age or race, need to know that we can have success, no matter where we come from because if we put in the time and effort it takes we can be successful.
Maureen has a beautiful way of describing her life experiences and I was intrigued with her. Every aspect of her life that she wrote about, gave me a vivid glimpse into her life: childhood, high school, her time in Paris as an exchange student, college years at Yale, working in Paris for L'Oreal, moving to California, getting married, working for The Gap, having her two daughters, the dynamics of her family life as a career woman, being in a key leadership position for the Banana Republic, and ultimately becoming a Global CEO for Chanel.
Maureen lets us know that as a woman you can be a mother, have a career, hold leadership positions, be successful without giving up your integrity and through it all you can have success on your own terms.
As a new business owner, myself, I learned valuable lessons from Maureen about working hard, bringing something new/creative to the table, and simply being authentic without compromising what you believe is best.
Conclusion
Beyond the Label is a book of one woman's journey to the top. There are not many women who make it to be CEOs and Maureen shares how she did it. She never compromised her integrity and I believe that is the true key to success.
If you are a woman striving for success, no matter your area of expertise, I encourage you to check out Beyond the Label and realize that you can do whatever you set your mind to do.
Note: Thank you, TLC Book Tours for giving me the opportunity to review Beyond the Label.

---
About Beyond the Label
• Hardcover: 288 pages
• Publisher: Harper Business (April 18, 2017)
The former global CEO of Chanel charts her unlikely path from literature major to global chief executive, guiding readers to move beyond the confines of staid expectations and discover their own true paths, strengths, and leadership values.
Driven. Shy. Leader. Wife. Mother. We live in a world of categories — labels designed to tell the world, and ourselves, who we are and ought to be. Some we may covet, others we may fear or disdain; but creating a life that's truly your own, means learning to define yourself on your own terms.
In Beyond the Label, Maureen Chiquet charts her unlikely path from literature major to global chief executive. Sharing the inklings, risks and (re)defining moments that have shaped her exemplary career, Chiquet seeks to inspire a new generation of women, liberal arts grads, and unconventional thinkers to cultivate a way of living and leading that is all their own.
Through vivid storytelling and provocative insights, Chiquet guides readers to consider the pressing questions and inherent paradoxes of creating a successful, fulfilling life in today's increasingly complex and competitive world.
"Why should we separate art from business, feelings from logic, intuition from judgment?" Chiquet poses. "Who decided you can't be determined and flexible, introspective and attuned, mother and top executive? And where does it state standing unflinchingly in your vulnerability, embracing your femininity, won't make you stronger?"
Wise, inspiring, and deeply felt, Beyond the Label is for anyone who longs for a life without limits on who she is or who she will become.

Purchase Links
About Maureen Chiquet
Maureen Chiquet began her career in marketing at L'Oreal Paris in 1985. She has worked at The Gap, helped launch Old Navy, and was president of Banana Republic before becoming COO and President of US operations of Chanel in 2003. In 2007 she became its first Global CEO, where she oversaw the business and brand's world-wide expansion. She left Chanel in 2016 to focus on writing, speaking, and developing new leadership initiatives. She is a Trustee to the Yale Corporation and fellow of Yale University, where she graduated in 1985.