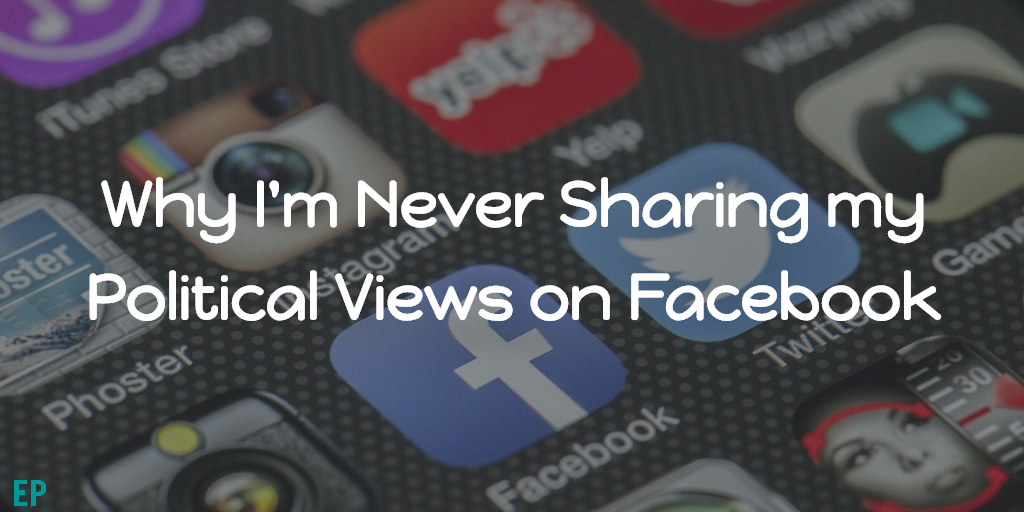 The Presidential election results are in, and there many angry, disappointed, and stressed out people. You have the right to feel any way you please, but don't hold in these toxic emotions for too long. It is not healthy for your mind, body, and spirit. Today I share why I'm never sharing my political views on Facebook.
The reason I'm writing about this topic today is that I got caught up in discussing politics on Facebook. The aftermath upset my overall well-being. I was angry and stressed. It is not in my character to let anything get to me, especially if I'm not the one in control, but a brief discussion on Facebook, threw me off my game.
Here's why I will never share my political views on Facebook (or any other social media networking site ever again).
Sharing Harms My Well-Being
#1. It drains the spirit.  My mood was not good. I was upset, disappointed, and depressed.
#2 It causes unnecessary stress. I felt worried and stressed after participating in the discussion.
#3 It messes with your body. I had a headache after sharing my views. Headaches are not a normal occurrence for me.
There are other reasons why I will never share my political views on Facebook (or any other social media networking site), but I do have one last reason.  I am establishing my business and building my personal brand and I do not want to jeopardize my chances of success because of what I said on social media networking sites.
These days, I honestly believe it is best to censor yourself on social media sites, especially Facebook. You never know who is reading what you typed or the results it can have on your health and well-being, your employment, or your business.
Final Words
This experience taught me that there is a time to speak and a time for silence. And I choose to keep my mouth shut about political discussions on Facebook (or anywhere).
I've have read mean, hateful things on social media about the President-Elect and I know people are worried and fearful about the future, but you must not let these toxic emotions linger for too long. The only person you're harming is yourself.
Relax and let it go! Pray and hope for the best!
Please do not put unnecessary stress on yourself. The most important thing you can do is live your life and live in peace with all men as best you can.
A Word of Wisdom
Finally, brothers and sisters, whatever is true, whatever is noble, whatever is right, whatever is pure, whatever is lovely, whatever is admirable—if anything is excellent or praiseworthy—think about such things. Philippians 4:8 NIV